Cream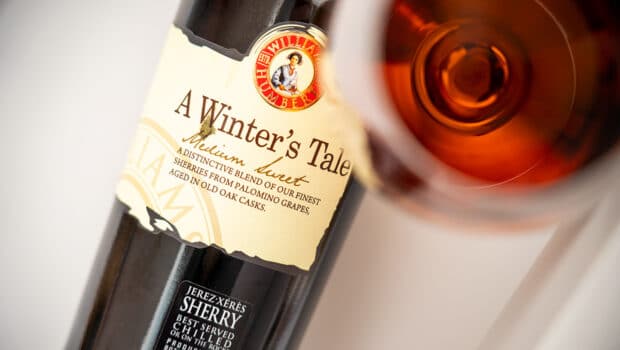 Published on August 16th, 2022 | by Ruben
0
A Winter's Tale – Medium Sweet (Williams & Humbert)
A Winter's Tale is one of the Medium Sweet sherries from Bodegas Williams & Humbert. It is a sweetened sherry, adding a little Pedro Ximénez to the base wine(s), resulting in a moderate sugar level of around 80 grams per liter. The W&H website is a little contradictory as it mentions both slightly sweetened Amontillado and slightly sweetened Oloroso on the same page. A blend of different sherry types, we'll keep it at that.
Medium sherry (which can be Medium Dry or Medium Sweet depending on the sugar contents) is popular in the United Kingdom but it's also the best selling style of sherry in The Netherlands, Germany, Ireland and France for instance. Other markets prefer Cream sherry which contains more sugar (above 115 grams).
The history of this wine goes back to the 1950s of 1960s. Obviously the name comes from a piece by William Shakespeare, who was one of the famous sherry lovers in the 16th century. At that time sherry was mostly a young, oxidative (brown) wine with some sweetness. Not unlike this Winter's Tale indeed. The bodega also uses other references to Shakespeare, e.g. for As You Like It, a more premium blended sherry.
I wonder why it has a relatively high ABV of 19.5%. Since PX is commonly produced at 15%, this would indicate a high percentage of old, concentrated Amontillado or Oloroso at its base. However the bodega indicates an average age of around 6 years. Maybe they simply want to give it some extra oomph by adding more alcohol.
A Winter's Tale – Medium Sweet (19,5%, Williams & Humbert, L20)
Nose: certainly more interesting than I expected. The Amontillado is easy to notice, with plenty of nutty notes like walnuts and hazelnuts. There's also a nice aroma that holds the middle between polished oak, iodine and a light petrol-like touch. Faint tobacco notes. Underneath there are raisins and almonds, with light hints of coffee beans and orange peel.
Mouth: medium sweetness, which rounds off the edges instead of taking the lead. More raisins combined with oranges. Moderate acidity and a pleasant spicy side (mild pepper). Light tobacco again, as well as caramelized hazelnuts. Gets darker towards the end, with plenty of roasted notes and a persistent finish on sweet herbs.
Availability: around € 15 in the UK, check The Whisky Exchange for instance.
Summary: A Winter's Tale is a medium sweet sherry with a British style and a above-average complexity. Very easy to like, keeping the middle between different profiles. It's a nice match to coffee- or nut-based desserts or an all-round companion to a cheese board.