Oloroso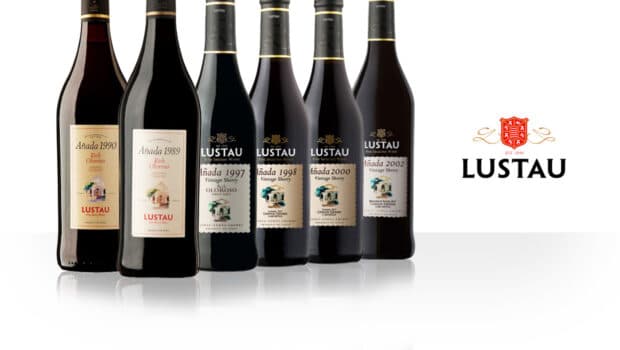 Published on July 8th, 2021 | by Ruben
0
Lustau Añadas: vertical tasting 1989-2002
Six sweet Palomino wines from Lustau, statically aged and released over the years since 2003
I love direct comparisons of similar wines – it helps to identify the unique elements in each wine and it can sometimes offer an interesting insight into the effects of bottle ageing. For this article we're putting six Añada sherries from Bodegas Lustau head to head.
Since 1989 the House of Lustau is producing sweet wines from Palomino grapes. There's no added PX as is the case for most of the sweet blended sherries. Although in the past the sweet vinification of Palomino was not uncommon (see the Viña Dulce Nombre for instance), Lustau was the first to revive the idea at that point and it is still the only producer offering this kind of wine.
Sweet Palomino in an Oloroso style
The Palomino grapes come from Lustau's 170 ha Montegilillo vineyard in the pago Carrascal, which is known for Oloroso wines. Grapes are picked overripe (but there's no asoleo like in sweet Moscatel or Pedro Ximénez wines) and fermentation is halted early in order to preserve some of the natural sugars. As the wine is fortified to 18% it will develop into a sweet Oloroso style, aided by the fact that they are aged in barrels that previously held (dry) Oloroso. All of these wines age statically, in barrels that are sealed by the Consejo Regulador, in order to prevent refreshing with younger wine.
The first of these añada sherry wines was released in 2003. Every vintage they set aside around 18-20 butts, a number that gradually diminishes as they age. They are released when deemed ready, usually between 15 and 20 years but the latest 1992 vintage was much older (bottled after 27 years of ageing).
In the past this type of wine was commonly called Oloroso Abocado or Rich Oloroso but after 2010 they simply call it Vintage sherry. Officially it falls into the Dulce category of naturally sweet wines.
Heartfelt thanks to PX and beer aficionado Dylan (of the Siris Bar in Belgium), who decided to open the majority of these bottles and sell samples. I complemented this with a couple of my own bottles.
Añada 1989 'Oloroso Abocado' (20%, Lustau 2003, 12.000 btl.) – 4*
N: A fairly dark profile, with caramel and milk chocolate, as well as some sweet latte. After some time in the glass it turns to red, jammy fruits (fig jam, raspberry ganache) with orange peels as well as some oak varnish.
M: Sweet and nutty on the palate, with lots of walnut cake, toffee and roasted hazelnuts. The oxidative character is really present – it doesn't have the same brightness as some of the recent añadas.
Añada 1990 'Rich Oloroso' (20%, Lustau 2007, 8000 btl.) – 3.5*
N: Figs and dates again, this is a similar, darker style. Toffee, Very light herbal top notes and aromatic spice, but there are less bright notes this time. There's even a hint of smoke in the background.
M: Sweet and nutty again, spicier than the 1989 and fairly limited in the sense that the caramel notes are not as beautifully balanced as in the other wines.
Añada 1997 'Rich Oloroso' (20,5%, Lustau 2010, 14.000 btl.) – 4*
N: More elegant now, almost ethereal even. Raisins, walnuts, marmalade. Turrón yema tostada. There's also a light hint of iodine or even petrol, could this be a bottle ageing effect? I've had this wine a couple of times before and never noticed it.
M: very rich and sweet. It seems sweeter than the two previous wines, but at the same time there's a lifting hint of pepper and orange peel and marmalade. Lots of nutty notes in the middle. Well balanced, really great.
Añada 1998 'Vintage Sherry' – 19 Years (21%, Lustau 2017, 6600 btl.) – 4.5*
N: great freshness, really aromatic hints of dried fruits, raspberry jam, juicy raisins and apricots, but also candied ginger and some floral notes, like orange flowers and a bit of thyme. High complexity and simply very attractive.
M: the juicy profile stands out, this has an exquisite balance of sweetness and acidity which wasn't present (any more?) in the older bottles. It also shows a lot of raisins, roasted nuts, orange peel, herbal honey and nice peppery warmth. Very vibrant.

Añada 2000 'Vintage Sherry' – 17 Years (21%, Lustau 2017, 5700 btl.) – 4.5*
A vintage marked by water stress, especially towards the harvest period.
N: this is really going up. I love the varnished hints of beeswax and exotic wood, even a hint of oil paint. Alongside there are tobacco leaves, coffee, but also lovely fruity notes, like juicy plums, lemon peel and fresh figs. It's equally attractive as the 1998 in my opinion, but playing in a different register of aromatic wood.
M: great juiciness again, with red fruits but also a citrus touch, toffee and caramelized notes. Great acidity here, but also a marked spicy side, with some peppery hints. A hint of smoked wood in the background.
Añada 2002 'Vintage Sherry' – 17 Years (18,5%, Lustau 2020, 5982 btl.) – 4*
N: also quite open and forthcoming, but not as much as the 2000 vintage. Closer to the 1998 because of the floral hints, but also showing leathery hints, walnuts, caramel apple and orange peels.
M: sweet and slightly stickier than other vintages. Prunes, fig and orange syrup, as well as some honey, pepper and slightly bitter herbs towards the end. Less acid than in the last few wines.
Summary: Lustau is producing some excellent sweet añadas with a great balance of sweetness and acidity. I have the impression that the newer wines are better than the old ones, but maybe there was some (unpredictable) bottle ageing at play. My favourite wine is the 2000, closely followed by the 1998. The ranking is completed by the 2002, 1997, 1989 and 1990 vintages.