Moscatel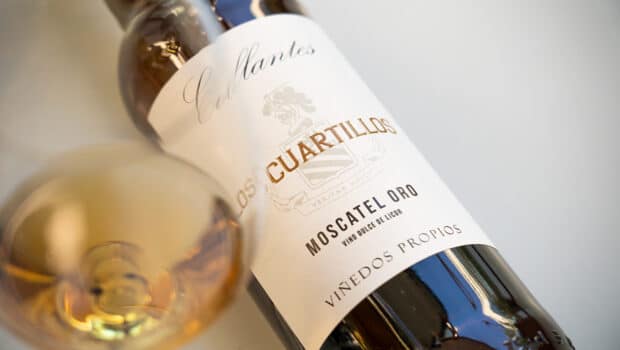 Published on April 22nd, 2021 | by Ruben
0
Moscatel Oro Los Cuartillos (Collantes)
A fresh, young Moscatel with a golden colour, staying close to the grape
To me Moscatel is all about floral notes, even though they are sometimes harder to detect in the sherry region, because of the long, oxidative ageing. A Moscatel Oro is lighter, younger and less common in the Marco, but here you do get the typical aromatic side of the grape. Moscatel Los Cuartillos is a nice and slightly different example from Primitivo Collantes in Chiclana de la Frontera. The grapes come from his Finca Matalián, where he takes care of 2 hectares of Moscatel de grano menudo (à Petits Grains) on albariza soil near the coast.
For this Moscatel Oro the grapes are picked on the first day of the harvest so there's no asoleo or extra ripening. The wine is (partially) fermented, then fortified and aged really shortly, just about 18 months in this case, with no oak whatsoever. Expect around 210-230 grams of sugar per liter. All this should result in a very pure expression of the grapes.
Moscatel Oro Los Cuartillos (15%, Primitivo Collantes)
Nose: the typical Moscatel markers alright, like orange peel, membrillo (quince paste) and hints of bergamot (Earl Grey). Some peach and light honey as well. However it also shows some elements that are less common, like green, vegetal notes, whipped cream and just a hint of minerals. Nice and pure but maybe not the most expressive example of Moscatel, you have to work a little to get to the bottom.
Mouth: really sweet and juicy now, with one main note: lychees on syrup. Subtle notes of oranges, elderflower and acacia honey. Still a very subtle mineral edge. Complexity is a little low here, but the freshness and acidity are really good.
Availability: great value for money. As low as € 7 in Spain, or around € 15 in other countries. See the Collantes website for more info.
Summary: A young, rather fresh and pure Moscatel with delicious hints of lychees on syrup. It's unaltered by oak or oxidation. Complexity is fairly low, but on the other hand it's really juicy and offers very good value for money. If you want balanced sweetness, this will work well on a summer evening.