Fino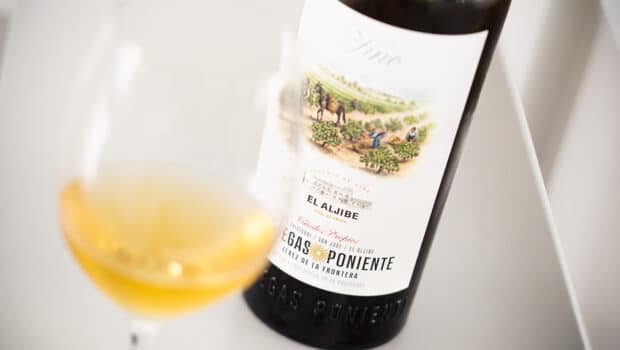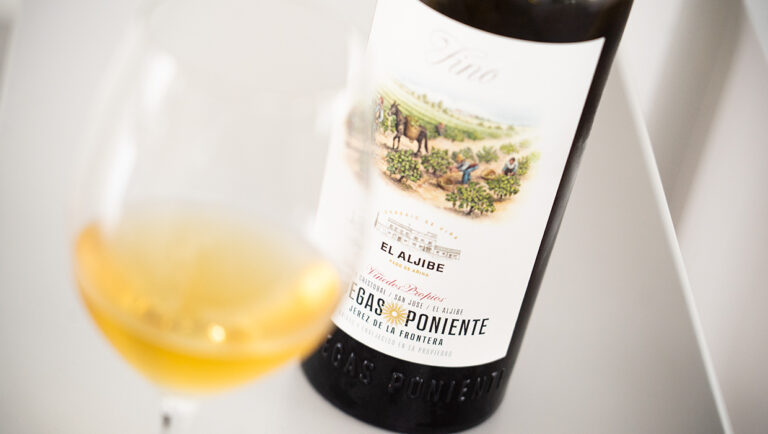 Published on August 25th, 2020 | by Ruben
0
Fino El Aljibe (Bodegas Poniente)
A premium single vineyard Fino with a fairly high age
El Aljibe is the name of a vineyard in the pago Añina where the grapes are grown for the Fino El Aljibe. This single-vineyard Fino is produced the old way, fermented in cask and matured in a solera of five stages (4 criaderas + solera, one rocío per year) before being bottled at around 8 years of age.
The high age puts it against some of the best Finos on the market, like the Fino La Panesa, Fino Inocente or Fino Tradición which are of similar age. That's impressive for a relatively new project like Bodegas Poniente. It was started by enologist Alberto Orte, who is also involved in the wine businesses Ole Obrigado and Cía. Vinos Átlantico (the Vara y Pulgar and Atlántida wines may ring a bell). He lives in El Puerto and since 2015 the company owns 16 hectares of grapes distributed over three vineyards: San Cristobal, San Jose and El Aljibe.
Since 2016 they are producing new wine, from a rigid selection of over 200 old clones of Palomino Fino, farmed organically. Their mosto is used to refresh soleras composed from acquired wines, bought from prestigious bodegas and almacenistas, in old butts and bocoys. The first wines were seen in stores early 2019.
Fino El Aljibe (15%, Bodegas Poniente, Saca 1/18)
Nose: you can tell this is an old Fino, in the classic Jerez style. Plenty of almond notes, hints of slightly sweet and sour bread dough and haybales. Saline touches. Some dried Mediterranean herbs (rosemary, thyme) and the slightest hint of dried apricots in the background. Light hints of cabezuelas (dead yeast cells which fall to the bottom of a cask). Complex, smooth and inviting.
Mouth: very dry and vivid onset, with a nice zingy acidity and a light peppery touch. Then showing more salted almonds, bitter herbal touches and grapefruit zest. Quite rich and saline. Long finish, which is dry with a clear chalky touch.
Availability: around € 35-40, not exactly cheap of course. Try Bodeboca for instance, or Ole & Obrigado if you're in the US. A second Saca 1/19 was released a few months ago.
Summary: A very sophisticated, classy Fino with plenty of maturity. A textbook example of an old-school Fino bottled at a high age, and an excellent business card for this new bodega. Recommended.