News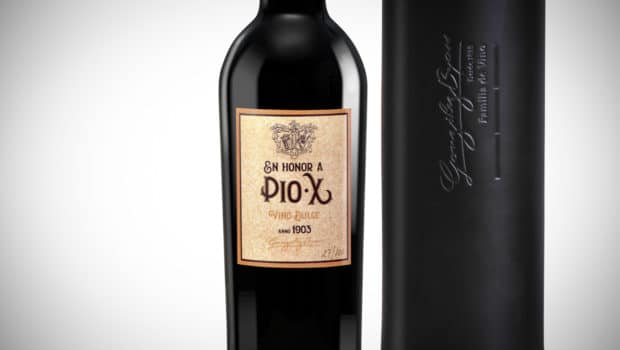 Published on November 14th, 2017 | by Ruben
0
Gonzalez Byass launches Pio X
González Byass has launched Pio X, a sweet wine produced in 1903 and dedicated to pope Pius X. It was tradition at the bodega to lay down a cask each time a new pope was elected and they still have these casks, dating back to Pius IX (1846) and Leon XII (1878). The one for Pius X was produced under the son of the bodega founder, most probably from Moscatel Menudo Blanco (Muscat Blanc a Petit Grains), a species of Moscatel and one of over 40 permitted grape varieties at the time. Widely grown in Jerez in the mid-19th century, it was replaced by Moscatel de Alexandria by the mid-20th century.
Pio X is a wine that has never been fortified and now has 9% alcohol (which means it's technically not a sherry wine). It comes from just one cask which yielded 90 litres or 120 bottles, 100 of which will be released onto the market. After 114 years only 20% of the wine was left in the barrel. González Byass has been a family run business since it was founded in 1835. Almost two centuries later, their historic cellars are home to some ancient and exquisite casks that were laid down by previous generations.
The Pio X Moscatel appears in the bodega accounts in 1908 with a volume of 2620 litres. It was sold for 600 reales per arroba, making it one of the most highly valued wines in the inventory. It also gives us an indication of its age at the time, as it's in the same category as PX wines from the 1850s and 1860s. It was certainly made before the replanting of vineyards in the 1890s due to phylloxera. The wine was stored in three separate casks until 1941 and was then stored in one large tonel. There is also a reference in their 1919 accounts to a stock of 24 bottles of Pio X being stored for posterity in El Aljibe, the bottle cellar located under the Apostoles bodega. Some of these bottles are still there, so the wine can be compared to the current bottling.
Antonio Flores, head winemaker at González Byass describes Pio X 1903 as well balanced, with astonishing freshness and complexity, and notes of dried figs, walnuts, treacle, lacquer and coffee. It shows remarkable vigour despite its lengthy ageing in cask.
Unsurprisingly, the price of this unique wine is high: it will cost around £ 1000 / € 1200. Available from The Whisky Exchange among others.