Oloroso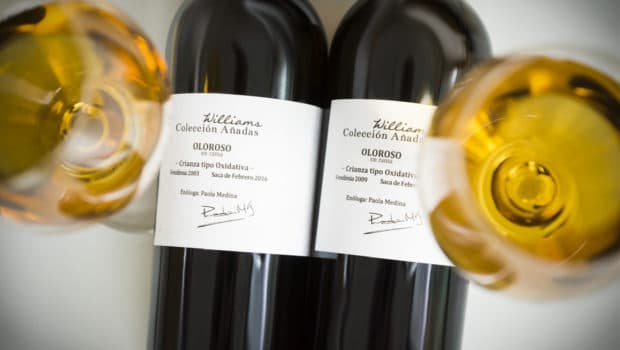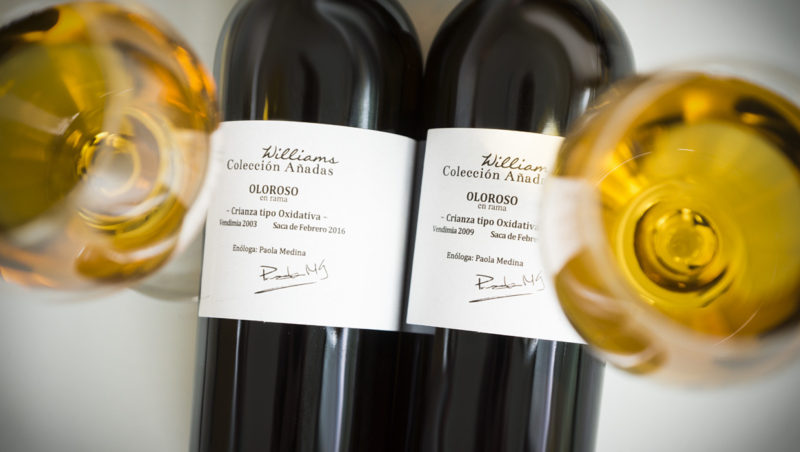 Published on March 17th, 2017 | by Ruben
0
Oloroso En Rama 2003 / Oloroso En Rama 2009 (Williams & Humbert)
There is a vibrant tendency to experiment in the sherry region. Laying down butts of vintage sherry wine is not an experiment for Williams & Humbert, who have been doing this for almost a century, but offering a series of wines at different stages of their aromatic evolution is certainly a brilliant new idea. We're trying two Oloroso bottlings from the Colección Añadas, a series of six añada sherries. We tried the young Oloroso 2012 some time ago and now we'll be looking at the older sisters: Oloroso En Rama 2009 and Oloroso En Rama 2003.
For their añada sherry, Williams & Humbert selects the best mostos from old vines in the pagos Añina and Carrascal, on a tosca cerrada type of soil.
After fortification they are matured in a static way, i.e. without the refreshments that are so typical for the solera system. It's interesting to see they both feel younger than their age suggests (around 7 and 13 years). In a solera they would have been mixed with older wine of course, and the young additions quickly take on the profile of the older wines.
Oloroso En Rama 2009 (19%, Williams & Humbert, Saca 02/2016, 50 cl)
Nose: a big sweet side of baked apple and raisin, mixed with savoury notes. Hazelnuts and something that vaguely reminds me of a gardening store. Mixed bird seeds. A gentle meaty note. Some coastal whiffs. Hints of wet leaves and forest floors. It has flashes of a classic Oloroso, but it's still undefined, hesitating, falling in between stools. It's also much more delicate than a common Oloroso.
Mouth: same feeling. Slow start with a vague sweetness and a very lazy, mellow evolution towards dryness.  If anything it shows a Palo Cortado-like buttery side, very glyceric, with hints of walnuts and lemon zest, but all rather soft, even a bit plump. Not really my style. There's a wave of alcohol and spicy warmth towards the end. Medium finish on mineral notes and lingering sweetness.
Oloroso En Rama 2003 (20,5%, Williams & Humbert, Saca 02/2016, 50 cl)
Nose: this one already shows the typical hints of polished oak – it's an Oloroso alright. More on roasted nuts now, dried apricots, hints of dates, albeit still with a few hints of zesty citrus. Subtle hints of late harvest wines. Mossy, vegetal notes in the background. Damp cellar. A little tobacco. Again this is much more lightweight than a common (solera matured) Oloroso.
Mouth: more intense than the 2009, and not just because of the higher strength. More of a nutty profile (hazelnut, walnut) with toasted oak and the first hints of spikey pepper. This is where oxidative flavours are starting to take center stage. Long, warm finish, with hints of oak.
Availability: all gone I'm afraid, but I suppose this was a testcase for future releases. The whole lot was around € 140 (6x 50 cl).
Summary: I'm not a fan of the Oloroso 2009, it feels almost too glyceric, a little bloated to me. The Oloroso 2003 is my favourite, more elegant and more structured at the same time. Closer to a classic Oloroso as well. In any case they offer a great insight into the gradual evolution of an Oloroso, seriously interesting. Not quite there yet, but that's the whole point.