Cream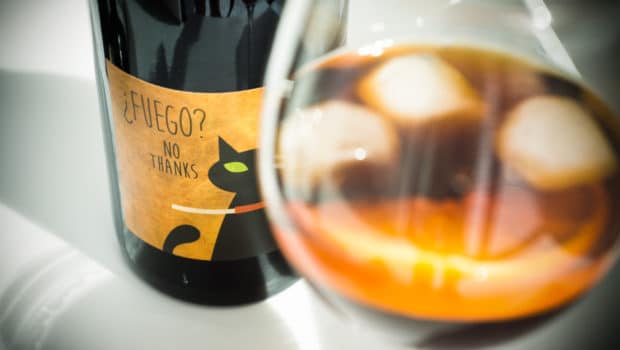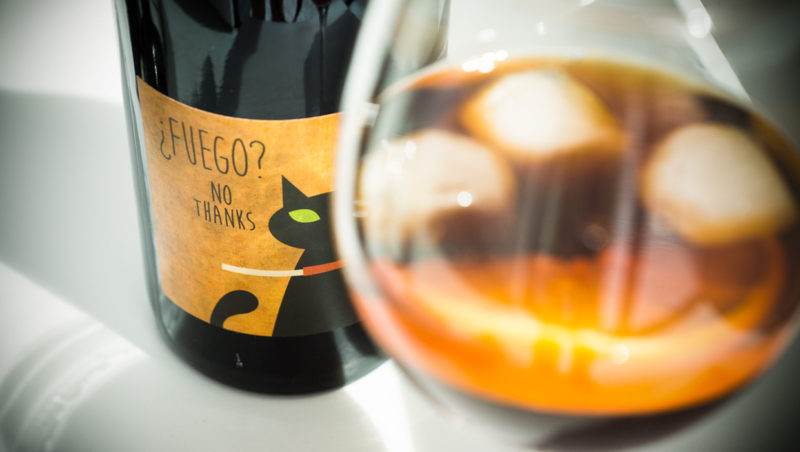 Published on August 21st, 2017 | by Ruben
0
¿Fuego? No Thanks (Romate)
A new style of unusual sherries that aim to attract a young audience
¿Fuego? No Thanks is part of the Unusual Sherries, a series from Bodegas Romate launched at the end of 2015. They offer something different to what we're used to, starting with a Bordeaux-style wine bottle and a sleek illustration on the label (an allusion to the poster for Breakfast at Tiffany's?). It puts the focus on the honest enjoyment and is less centered on quality.

¿Fuego? No Thanks is a Medium sherry, based on Amontillado sourced from different soleras, with a bit of Pedro Ximénez added to it. They suggest to have it on the rocks with orange peel and marry it to almonds, paté or a sweet-and-sour curry. We tried it as suggested, but only after we tried it neat.
¿Fuego? No Thanks – Medium (18,5%, Sánchez Romate 2016)
Nose: there's an immediate hints of mushrooms and musty cellars that I'm not quite fond of. Behind it are nicer notes of toffee, dried figs and milk chocolate. A little Gianduja. Caramel. Better with orange peel indeed, at a lower temperature. This takes away some of the mushroom smells and makes it lighter.
Mouth: medium intensity, with a gently acidic fruitiness balancing the sweetness. The Amontillado brings a nice spicy note and some saline spikes, but they are overtaken by sweet dried fruits, nuts and light herbs. A bit of everything, it doesn't really work for me. I like the nose better with ice and orange, but the palate is better when taken neat. It's too serious to be an easy-drinking Cream, but it's too sweet to be a classic wine. Unusual indeed. Medium long finish on chocolate and berries.
Availability: I've only seen this in Spain so far. A 75cl bottle is around € 8-10.
Summary: I have to admit this works with a blue cheese, but I had some trouble appreciating this on its own, neat or with ice. It resembles an Amontillado but also an Oloroso, and it's not quite the normal Medium either. A wine that falls in between many stools. I'll stick to the Pale Cream 'Mirame cuando te hablo'.