Cream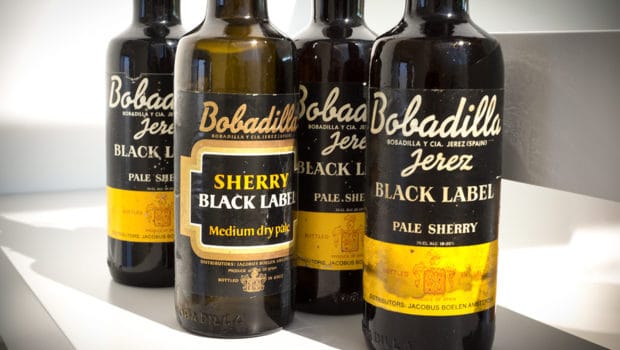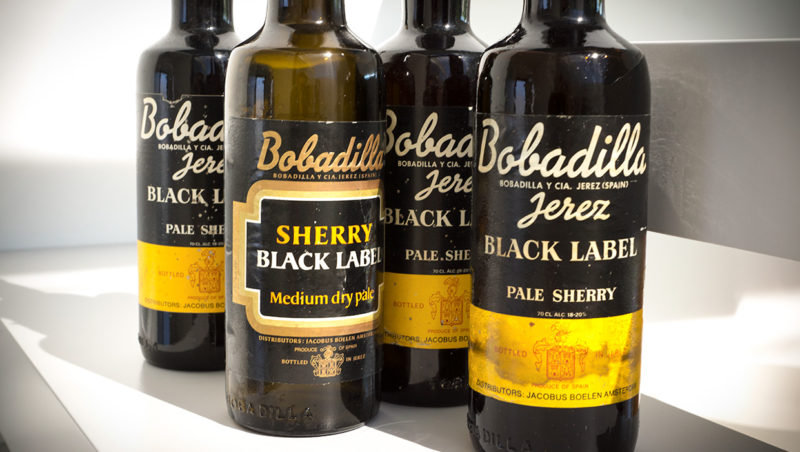 Published on August 25th, 2016 | by Ruben
0
Bobadilla Black Label (1974 / 1975 / 1977)
Some time ago I bought a lot of twelve 1970s bottlings in an auction, most of them Bobadilla Black Label bottled in 1968, 1974, 1975 and 1977. I know this from the date stamp in the base of the bottle, in this case confirmed by the purchase date which the owner noted down on the label. They were all in the same cellar so we can assume the lot has always been stored in similar conditions.
The purchase wasn't a no-brainer, these bottles can be hit or miss, it all depends on the storage. However I found it reassuring that it was such a big lot, not just the one bottle that everyone finds at the back of their grandmother's cupboard by the television. Another important element was the fact that the purchase dates were always just a couple of months past the bottling date (sometimes even within the same month). At least they were fresh when they arrived in the cellar.
On to the sherry itself then. Bobadilla was founded in 1882 by Manuel Fernandez de Bobadilla. In the 1950s and 1960s it had a very good reputation for its wines and perhaps even more for its brandies (Brandy 103 and Gran Capitan). The company always had good relations with The Netherlands (a very important market back then) and our bottle was distributed by Jacobus Boelen, the oldest wine merchant in Holland (and currently the importers for the Grupo Estévez). Around 1987 they attracted a Danish investment company until they were acquired by Osborne in 1990, which made them the biggest Spanish producer of brandy at the time. Nobody seems to know what Osborne did with the sherry soleras though.
According to the text on the label, it was part of a series of three blends:
Black Label which was named Medium Dry Pale (the name Black Label was probably chosen in analogy to their highly regarded Etiqueta Negra brandy)
Extra Dry which was a Pale Amontillado
Fino Victoria which was a very pale, very dry sherry
To give you an idea: in a newspaper advert from 1974, I saw that Bobadilla Black Label cost around 9 guilders back then, about the same as a bottle of La Ina from Pedro Domecq. It seems the Black Label was meant to be a higher-end sherry, which they underscored by having a black and gold label and a characteristic, virtually opaque black bottle.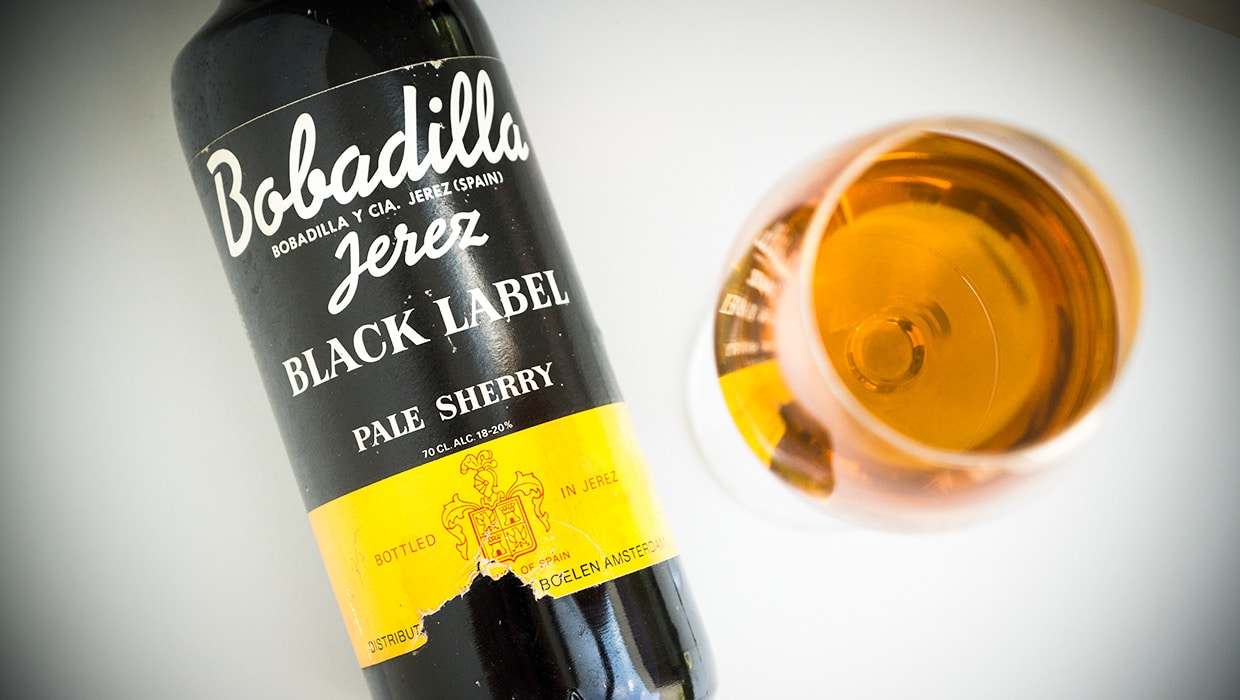 Bobadilla Black Label 'Pale sherry' (18-20%, Dutch import, bottled July 1974)
Quite a nice nose, very similar to what you'd expect from a modern-day Medium sherry. Fresh and fragrant, with an obvious dose of good Oloroso in there. Dried apricots and quinces. Even some bright top notes of orange peel. Roasted almonds. Not much coastal notes but nonetheless a really nice nose that I would certainly give a good rating. On the palate it has a slight sweet onset, but it also has a nicely tangy Amontillado feeling to it – actually I was quite surprised about the overall dryness. Lots of nutty notes (walnuts, hazelnuts), even a slight peppery hint that is quite common for older Oloroso. The only downside is that it seems 'clipped' in a way, some of the brightness seems to have faded. A good wine!
Bobadilla Black Label 'Pale sherry' (18-20%, Dutch import, bottled Feb 1975)
This is interestingly different, much younger and sweeter, mostly on fresh grape juice, with the character of a Sauternes-style dessert wines or a very young PX (say the young vintage PX from Alvear or Ximénez-Spinola). Candied oranges. Quince jam. Some traces of oxidation as well, including a slight sulphury edge. Certainly not unpleasant, though limited in terms of complexity and quality. The palate is medium sweet, with golden raisins and pepper at first, followed by some nutty notes (hazelnuts). Again not bad, but it's definitely lacking structure, feeling thin and a little tired, with a slightly metallic aftertaste. Less impressive than the first one.
Bobadilla Black Label 'Pale sherry' (17,5%, Dutch import, bottled March & May 1977)
This is the version with the gold frame on the label. It says Medium Dry Pale instead of Pale Sherry.
A problematic bottle. As you can see on the picture below, the plastic / rubbery layer inside the capsule disintegrated entirely. What's left is a kind of black mouldy dust. I guess the capsule wasn't entirely airtight any more, as the filling level of this bottle was rather low, below the neck. In fact I opened both of my 1977 bottles and they both showed the same profile. Sulphury, dirty nose with hardly any fruitiness or aromatic quality. The palate was thin and uninteresting. And of course a lot of the dust was floating all around. It wasn't worth filtering it out. Bad luck on these two bottles.

Buying and opening old bottles of sherry
Well… what can we learn from this tasting? First of all, that Bobadilla Black Label must have been a well respected, medium- to high-quality blend. It has traces of Amontillado, as well as some medium-aged Oloroso, and the level of sweetness is reasonably low. A nice surprise from an era that generally doesn't have the best reputation when it comes to sweet blends. At least, this positive experience was true for the 1974 bottle. The 1975 version was slightly less impressive and the 1977 undrinkable. It's hard to say whether the differences are down to different batches of wine (the alcohol levels are different, so maybe they changed the blend altogether) or a different evolution in the bottle. I'll update this article as I open more bottles from this stash.
Buying old bottles of sherry can be interesting, but try to check the storage conditions and have a close look at the filling level and the condition of the cork / capsule (which can be tricky when buying online). Metal capsules are generally more airtight than corks in the long run, but they come with an inlay that disintegrates rather easily. It looks like Bobadilla changed labels / bottles / blends around 1976/1977 so perhaps there was a more structural quality problem in those years.
In any case I'm too curious to try wines from lost bodegas!