Pedro Ximénez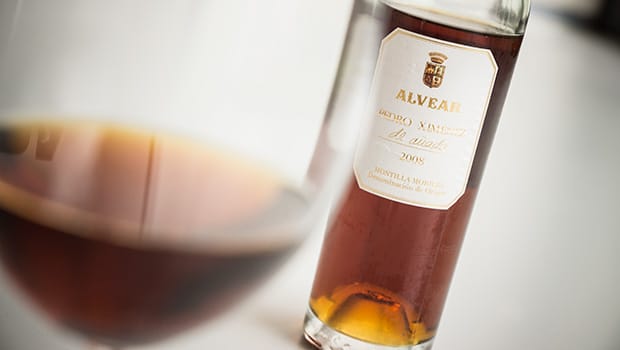 Published on April 24th, 2014 | by Ruben
2
Pedro Ximénez de Añada 2008 (Alvear)
Bodegas Alvear is an established name in the D.O. Montilla-Moriles. For many years this region struggled to find its own identity next to sherry, but now they are specialist in Pedro Ximénez wines, especially older examples and vintages. The region is not only producing its own stunning examples but also producing the base wines used to make P.X. in the D.O. Jerez – Xérès – Sherry (as there are hardly any P.X. vines left in the sherry triangle).
This is a rather young vintage P.X. made with grapes from the 2008 harvest
Alvear produces a wide variety of sherry-style wines: Fino, Amontillado, Oloroso, Mosctael… but the main focus is definitely Pedro Ximénez. Alvear has both solera matured P.X. (like the Solera 1830) and vintage examples (añadas). Since the late 1990's they're deliberately filling these separate vintage casks which are usually bottled after 3 to 5 years. They don't have really old vintage wines.
Alvear P.X. Añada 2011 was recently awarded 100 points by Richard Parker. Today we're trying the 2008 vintage.
Pedro Ximénez de Añada 2008 (17%, Alvear 2011)
Nose: mainly on the typical raisins and plums, but this one is particularly fragrant as well. Lovely orange peel (evolving towards marmelade) and a hint of apple blossom. Some candied tangerine and hints of fresh grapes.
Mouth: sticky sweet, full of caramel and brown sugar flavours. Toffee and truckloads of honey. Also big notes of membrillo, the quince jelly they make in Andalucia. I find it a bit too much, it's lacking some of the vibrancy of the nose and there's little acidity to be found. Gets slightly nuttier (pasta de almendras) and slightly spicy towards the end. Long, sweet finish.
Availability: pretty good. It's available in 50cl or 37,5cl. Around € 12 for the smallest bottle.
Summary: This could nicely replace a slice of membrillo with your Manchego cheese. Or pour it over vanilla ice cream. On its own, it's slightly too monolithic for my taste. Nice floral notes on the nose though.