Oloroso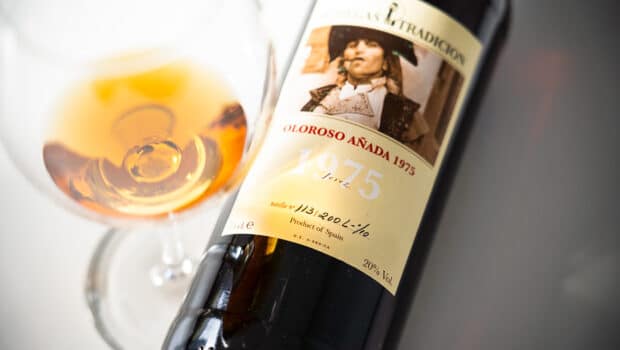 Published on March 14th, 2022 | by Ruben
0
Oloroso Añada 1975 (Bodegas Tradición)
A rare vintage sherry laid down in 1975 and first released in 2010
As you know Bodegas Tradición is a relatively young bodega – they started in 1998 by taking over wines from other bodegas and re-composing them into new soleras. They also acquired some vintage wines, separate from the soleras, like this Oloroso Añada 1975 that came from the Croft bodegas. Croft is best known for their Croft Original, a pale cream sherry that is now marketed by González Byass. In reality though, they produced far better wines like the Fino Delicado and very old Olorosos once owned by Alfred Gilbey. Owner Diageo dismantled Croft in 2001 and Tradición could snap up a couple of unique wines.
This vintage Oloroso is part of a set of 9 butts, although I'm not sure how many remain now. Of course vintage sherry is rarer and essentially more finite than a well-aged solera wine. However it would be a mistake to simply state they are always better. They tend to develop more intensity, but they're usually a little less complex and nuanced. This is why some critics prefer the Oloroso VORS Tradición over this añada, especially in terms of value for money.
The Añada 1975 was first released in 2010 at 34 years of age. Bodegas Tradición also have a Palo Cortado Añada 1975 and an Oloroso Añada 1970 acquired from the same source, as well as the Palo Cortado 1998 and several recent vintages.
Guardacantón by José Jiménez Aranda
The label includes a painting by José Jiménez Aranda (1837-1903), one of the most famous works in the art collection of Don Joaquín Rivero, the founder of the bodega. Its title Guardacantón literally refers to a thick stone protecting the corner of a building, but it's also used for someone guarding the corner of a neighbourhood. He has the look of a bandit with flamboyant Goya-inspired clothing.
If you have a chance to visit Bodegas Tradición, I strongly recommend it. Besides the excellent wines, their art collection and library are two strong assets that you won't find in other bodegas. Bookings can be made online.
Oloroso Añada 1975 (20%, Bodegas Tradición, L10)
Nose: a really ample, rather high-pitched nose full of polished furniture and old cabinets, showing brandy-like woody notes. Sweetish berry and fig aromas. Hints of roasted walnuts and some wood spice (peppery and gingery notes) – perhaps a little more tangy and biting than their Oloroso VORS, with a slightly bigger acidity. Leathery notes. Chocolate dipped almonds. Orange peels with clove. A highly focused, yet forthcoming aromatic nose.
Mouth: dry and racy, with a marked acidity. Definitely more lemony notes and ginger, pushing away the caramelly notes and the glyceric notes that you get in the VORS or other old solera Olorosos. Strong woody notes, with roasted nuts again (hazelnuts), orange peels and subtle varnish. Balanced saline notes too. Despite the vertical profile, it manages to balance it with rounder, dark and almost sweet notes in the background. A very clean finish, but a tad shorter than expected, leaving warm woody notes and nuts.
Availability: only 200-300 bottles are released in some years. Prices are between € 200 and € 300, more or less.
Summary: This Oloroso 1975 is a very intense and powerful wine, with a marked acidity but also a lovely finesse and balance. While you can find more of these really old sherry wines, few of them manage to keep their freshness and elegance. A rather silky and highly drinkable powerhouse. Be sure to try it if you have a chance.