Visits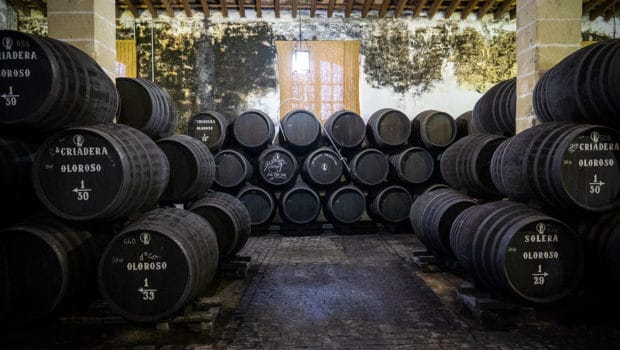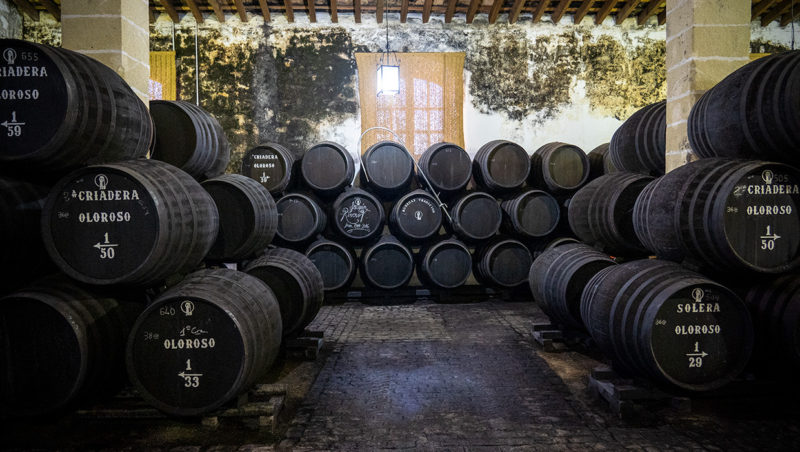 Published on January 23rd, 2019 | by Ruben
0
Visiting Bodegas Tradición
While attending the Sherry Educator course in September 2018, I had a chance to visit Bodegas Tradición. This is a relatively young bodega (founded 1998) with a great reputation and a rather unique approach because they only sell wines that are certified over 20 (V.O.S.) or over 30 years (V.O.R.S.), some even much older. Read more about the history and background in my Tradición bodega profile.
It is a small scale bodega entered through a tower-like entrance gate. In a first room (a warmer part I suppose) there is the Pedro Ximénez solera, giving way to the main part of the bodega which holds the other soleras (Amontillado, Palo Cortado, Oloroso). At the centre there is a nice courtyard covered by a vine canopy, where they often let you taste their wines after a tour.
Tradición = Tradition
The whole production process here is exactly like in the old days. When we arrived they were refreshing the Amontillado VORS solera, using the typical curved siphon to get wine out of a barrel and into a jarra (metal jar), wine which then gets poured into the next barrel through a canoa (triangular funnel). That explains the logo of the company. Bottles are sealed with wax manually and the lot / bottle number on the label will be written by hand. Few bodegas are still operating like that (at least in daily practice, not just for tours).
Here's a video of cellarmaster Pepe Blandino doing the daily rocío and export manager Eduardo Davis explaining.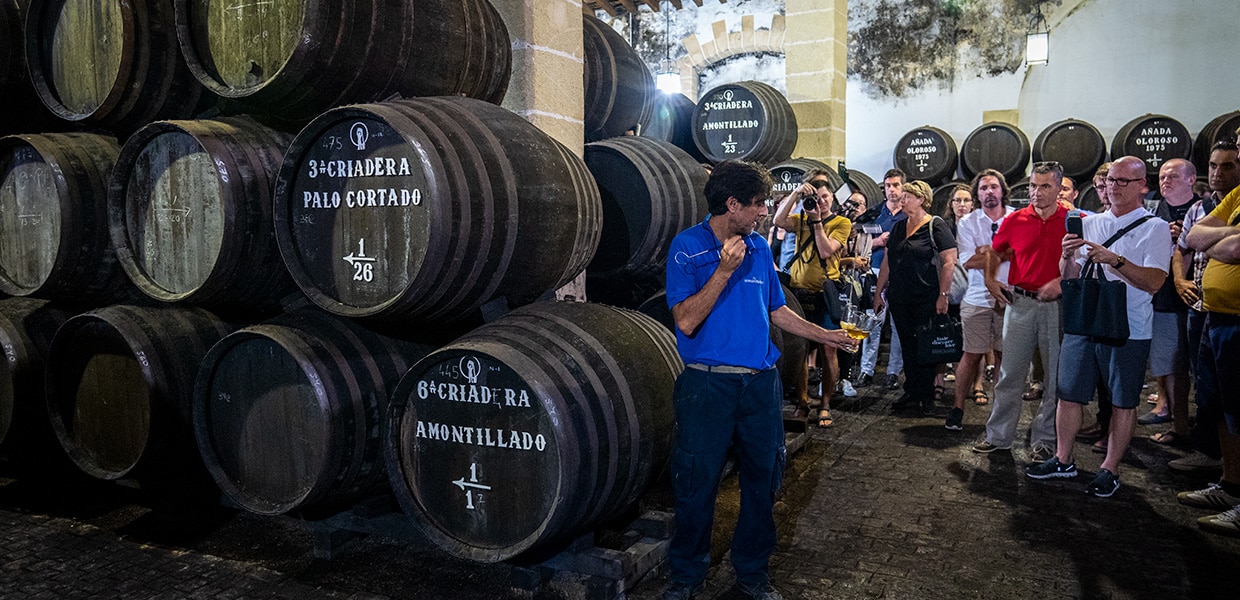 Amontillado VORS: running the scales
They started passing along a few glasses of wine from the sixth criadera and then from the 3rd criadera, ending with a glass of the mature Amontillado from the solera row. Most of the wines at Bodegas Tradición have five criaderas except for the Palo Cortado which has three and the Amontillado which has six. Being able to try the same wine at different stages is a very educational experience, witnessing the ageing from around 12-15 years to over 45 years. It gets a nicely mature Amontillado character in the first stages already, but the real magic is still happening at the very end, I would say.
Añadas and other peculiarities
This Amontillado isn't even the oldest in the house. In 2014 they released the Amontillado Viejísimo, estimated to be over 80 years old and normally only used to 'spice up' the regular solera. It was sourced from an almacenista in Sanlúcar, so most likely it was a Manzanilla in its early days. There's also a very small solera of Pedro Ximénez VORS that is twice as old as their regular PX.
Scattered around the bodega are also a few special barrels of relic wines, like the Vino de Color SSP I could try. This is a very dark and sticky wine, sweet but also immensely herbal and oak infused. Vino de color is made from concentrated must traditionally used to add colour and sweetness to another wine, a style of wine that fell into disuse in the 1960s and 70s.
The past few years Tradición also released a series of añada sherries, like the Oloroso 1975 1|6, Palo Cortado 1975 1|6 and Añada 1970 1|5. Walking through the bodegas, it becomes clear that they have also secured butts for future releases, from the 1987, 1991, 1998 and 2015 harvests among others.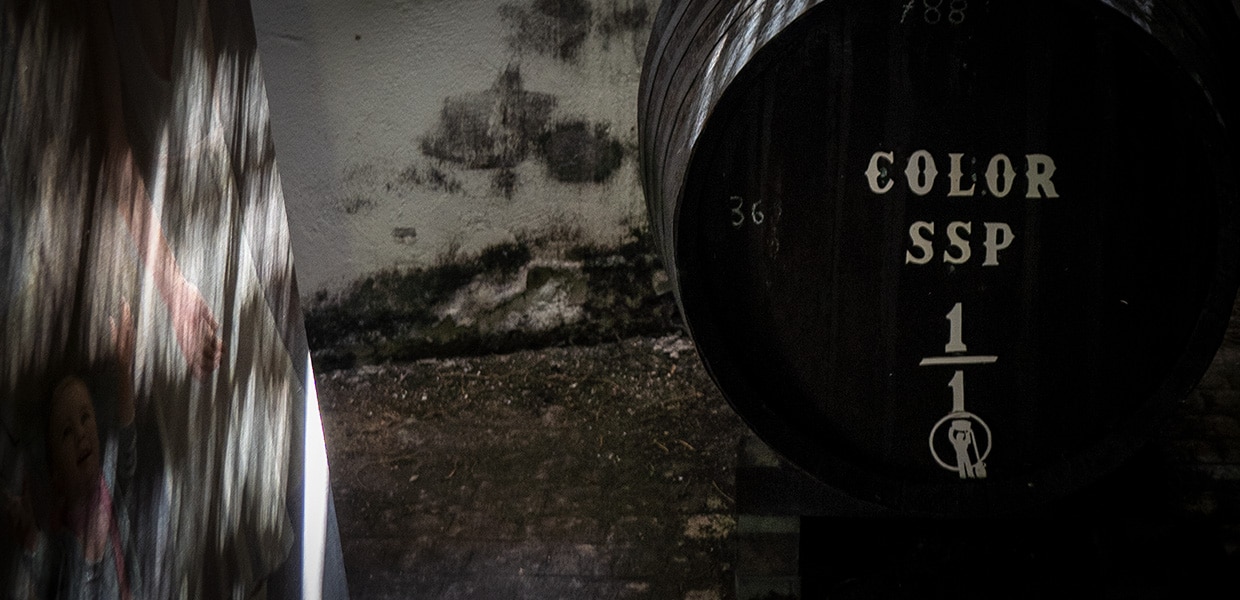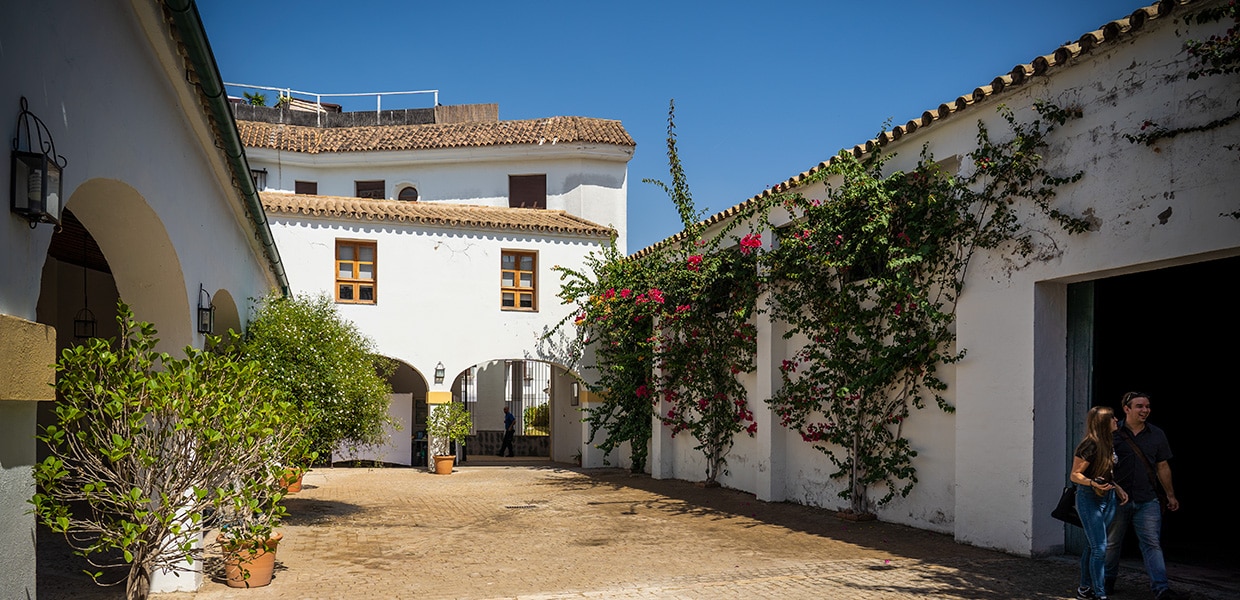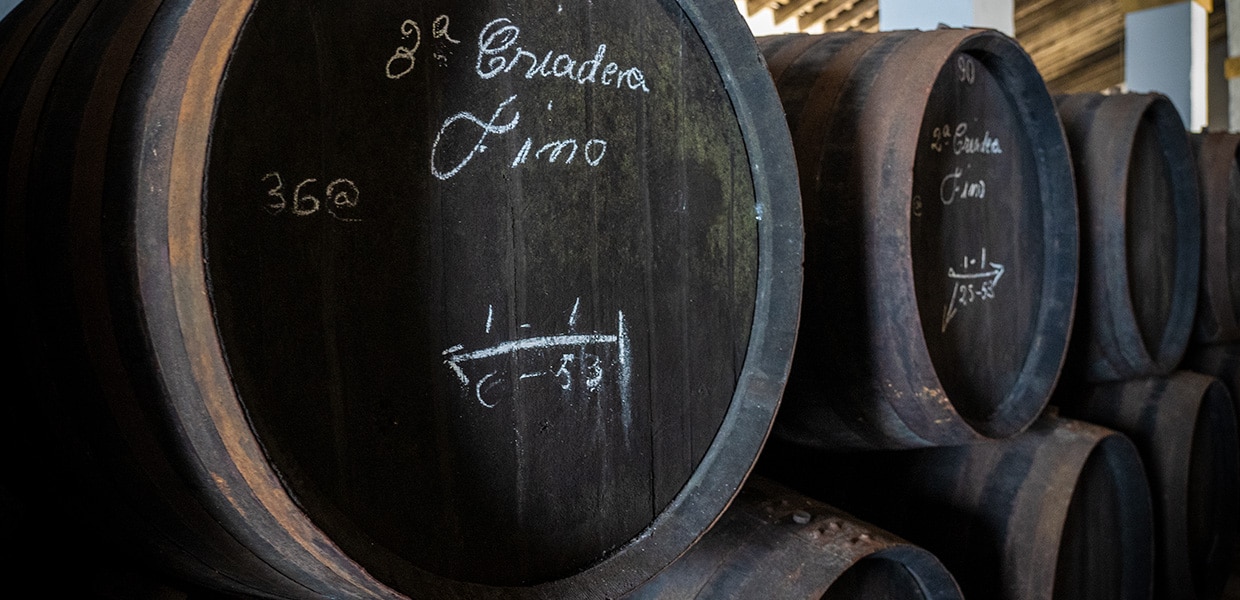 Fino Tradición
Since 2013 Tradición is also bottling a high-end Fino sherry of over 12 years of age. Although this may seem younger than the other wines, it is substantially longer than normal for a Fino. It is stored in a bodega next door, which you access through a small corridor. The Fino bodega seemed cooler, perhaps there was a water spray system which occasionally released a puff of fine mist.
As the bodega does not own vineyards, they feed this 400-butt solera system with young wines from almacenistas. Making Fino not only allowed them to come up with a new product, the wine is also used to top up the magnificent Amontillado solera.
The art gallery at Tradición
Besides the high quality wines, Tradición surprises visitors with an impressive art collection. In 2006 the bodegas were revamped to accomodate the personal collection of the founder Joaquin Rivero. It is the most important private art collection in Andalucía and one of the largest in the whole country with over 300 paintings by leading Spanish masters like Zurbarán, El Greco, Velázquez and Goya. In fact, it reads as a history of Spanish painting from the 15th to the early 20th century.
It is clear why Tradición is often mentioned as one of the must-visits when coming to the sherry region. Their wines are superb examples of the traditional style, the Fino is a great new addition and art lovers get access to an impressive overview of Spanish painting throughout the centuries.