Oloroso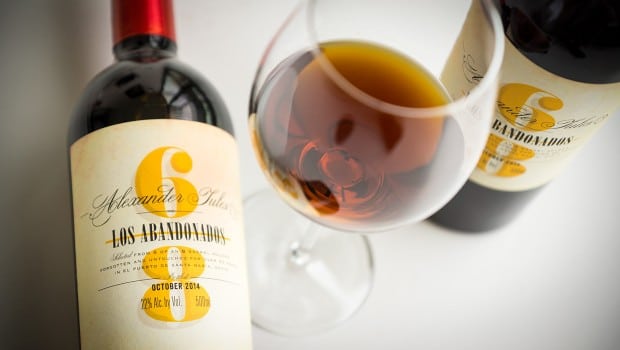 Published on February 3rd, 2015 | by Ruben
2
Los Abandonados 6|8 (Alexander Jules)
Los Abandonados is a unique Oloroso, with a touching story and an impressive age
Los Abandonados is an Oloroso from barrels that have recently been 'rediscovered' in a bodega started around 1820 in El Puerto de Santa María.
They were literally forgotten by descendants of the family that made them and spent 40 years concentrating in eight barrels, untouched and never refreshed with younger wines. They come from the sacristia, the inner sanctum in the bodega where the family, which had run a successful almacenista business for over 100 years, kept their most precious wines.
From these eight barrels, Alex Russan of Alexander Jules selected six to create the final wine. The roof of the bodega had partly caved in, allowing the other two barrels to be in direct sunlight at times, which is never a good thing for the development.
While casks in Jerez usually contain around 500 liters, only 150-250 liters were left in these barrels, such was the evaporation and concentration in these 40 years. The wine has been bottled by hand in October 2014, using only a screen to filter out the roughest debris. En rama deluxe.
For more background information and pictures, visit the Alexander Jules website.
Oloroso Los Abandonados 6|8 (22%, Alexander Jules, October 2014, 770 btl.)
Nose: very bold and powerful. Plenty of citrus acidity up front, alongside dried fruits (prunes, dates). A lot of floor polish, exotic wood (cedar), hints of eucalyptus. Hints of smoke and toasted bread. Camphor. Flashes of balsamic vinegar. Old leather. Buttered pecans. Hints of incense. There's also a faint animal side to it (think stable aromas) but this comes and goes. Quite massive.
Mouth: oily, with an acidity that I've rarely encountered before. Extremely concentrated. Becomes almost medicinal with some bitter notes of dried herbs and grapefruit skin. Ponzu sauce. Walnut husks. There are deep, warm, oaky notes but relatively few raw tannins. Becomes increasingly briney (the kind of punch that you get from anchovies) resulting in a surprising combination of saltiness and sourness. Only in the very end is there a hint of sweetness again. Aftertaste on Turkish coffee, bitter chocolate and toasted oak.
Availability: only in the USA, Spain and Japan. Only in 50 cl bottles that are 75 USD each (on par with similar rarities, I'd say).
Summary: Los Abandonados is a special Oloroso, with a rare level of intensity and concentration. The salinity, acidity and woodiness is quite invading, in fact it might be too overpowering for some. It's a wine that makes you hold your breath for a second, a real treat for sherry aficionados.