Interviews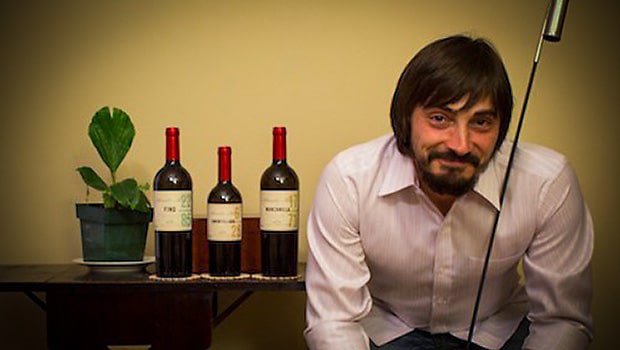 Published on July 8th, 2014 | by Ruben
0
Interview: Alex Russan (Alexander Jules)
This is part of our series of virtual interviews with "sherry insiders", people working in the industry as a producer, capataz, brand ambassador, bottler… Obviously these people are the true heroes of the sherry region, they dedicate their time to presenting the best possible wines. We'll serve them a couple of questions about their work and their love for sherry.


Today the spotlight is on Alex Russan, responsible for the Alexander Jules brand (website). Jules is his middle name, by the way. He's an independent bottler, constantly looking for great soleras and casks from different bodegas that are released under his own label.
Check out his first trio of wines: Manzanilla 17|71, Fino 22|85 and Amontillado 6|26.
Is Alexander Jules your main occupation?
I divide my time between Alexander Jules and importing specialty coffee into the US and Canada – similar to my sherries, I focus on smaller quantities of very special coffees.
How do you manage the search for wines?
Initially I spent about 2 weeks on Skype at 2am calling bodegas in Spain from LA.  Now I make most new connections through friends and suppliers.
How did you start working in the sherry industry and why did you choose this particular sector?
One of the first wines I fell in love with when I got into wine was sherry; I fell for its unique aromas in a way I did not for other wines. It was always a dream to visit and barrel taste – the barrel variation in "normal" vintage wines, after only a year, can be shocking, so I figured barrels in the Marco, being used for as much 200+ years, probably had time to develop very individual personalities.  When I noticed all the press sherry was beginning to get a few years ago, I thought "I bet I could make a business of that," and everything developed from there.
In your opinion, what makes the unique quality of your brand?
My main wines are blends of barrels I have selected from within single soleras, rather than the general practice of bottling from an entire solera, or creating blends from wine from soleras of different average ages or styles. My bottlings are brought into being from what I see within the whole [solera] and want to bring out or accentuate, rather than building something from many different pieces (perhaps analogous to the difference between sculpture and architecture – which also makes apparent that what I do isn't any better or worse than traditional bottlings, just a different approach and product.)  The resulting bottling will of course be a product of my palate preferences, which hopefully others share with me!
Among the sherry wines that you've bottled, which makes you the most proud?
I'm writing this flying home from a visit where I hand bottled two single barrel bottlings of very old Amontillado at Argüeso; barrels I selected with Joe Manekin of K&L Wine Merchants in California for an exclusive release with them. Each release is only 65 bottles.  With Bienve of the bodega, we siphoned directly from each bota to the bottles, after which I balanced the fill lines and hand-corked the bottles – since most bodegas in the Marco use the T-top corks, and as I use "standard" style corks, I had to bring my own corker from home in California that I use for home winemaking. This was the most satisfying, and most exhausting, Alexander Jules day so far.  Each barrel's wine is distinct and beautiful, and it is an honor to be doing exclusive bottlings with a company like K&L.
What do you think the near future will hold for sherry? Which evolution or challenge seems most interesting to you?
I just learned about some interesting studies being done in the vineyards, in order to be able to more precisely delineate them.  I have a bit of an obsession with plants (as well, of course, with vineyards), so I am very curious to see the details on all of that.  Considering the (long) nature of sherry production, I don't know how quickly it will lead to results "you can taste," but I'm dying to hear more.
A small sneak preview of what you have in the pipeline maybe?
Yes! One I am particularly excited about is a bottling of very old wine, initially from a bodega started in the early 1800's. The wine, which was already old, is in casks that have not been refreshed with younger wine, or even touched, for the last 40 years. The barrels have concentrated down from around 500 liters per barrel to 150-250 liters per barrel. They are immensely concentrated and complex, and would also be a type of bottling I'm unaware of existing elsewhere – a glimpse at a very unique circumstance, with a lovely result.
Update: check out Alexander Jules 'Los Abandonados'
I have a few other sherries I am working on as well, and am looking into getting wider distribution worldwide, in addition to beginning to import some interesting Spanish wines into the US, while continuing to search for new, intriguing bottlings for Alexander Jules.  In writing this last paragraph, it now makes sense to me why I've had no free time recently!
Thank you, Alex, and all the best in your work for Alexander Jules.