Fino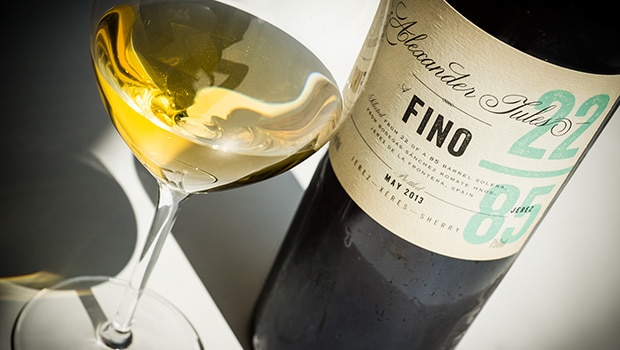 Published on July 4th, 2014 | by Ruben
0
Fino 22|85 (Alexander Jules)
Alex Russan chose pungent Fino barrels that were showing an older, more mature flor influence
The independent bottler Alexander Jules had two wines from Bodegas Argüeso among his first releases, but also this Fino 22|85 that was sourced from the Solera Celestino at Bodegas Sanchez Romate.
It's the same 85-butt solera that provides the wine for the Fino Perdido, bottled for the Wine Society in the UK. Mind that both have selected a different set of barrels from that solera, so the end result is not really comparable. Apart from these expressions, the solera isn't commercialized, so they're providing us a unique insight in this part of the bodega.
Fino 22|85 was aged for around 8 years before being bottled en rama in May 2013, so it had some time to settle in the bottle. I'm sure it could have aged a few more years in the bottle, but we're just too keen to try it. It's the oldest Fino solera at Romate. In fact this would have been called a Fino Amontillado (something in between) before the Consejo decided this term should not be used any more.
Fino 22|85 (15%, Alexander Jules 2013, 1100 btl.)
Nose: quite pungent indeed, with lots of mature flor notes. The farmy notes are very pronounced: drying hay, wet animal fur, some earthy notes and decomposing vegetals… I really like that. Subtle (overripe) fruits, quinces I'd say. Lime leaves and a dash of honey. Hints of flan catalan. Finally a few oaky touches and a dryness of cinnamon bark. A Fino slowly developing early signs of the Amontillado character.
Mouth: the usual briney notes are still there, but in a softer way. They are joined by a gentle peppery heat. Nutty notes (almonds, hazelnuts). There's obviously less vibrant freshness than in a young Fino, but the savoury, warm and bready profile is really nice. A great mix of elements. Almondy, yeasty finish.
Availability: old Manzanilla Pasada is relatively easy to find, but old Fino is rare – Fino is usually bottled at a younger age. A nice equivalent of Dos Palmas or Tres Palmas. Around $ 40. Only available in the US for the moment.
Summary: Older Fino can really show a grandeur and savoury intensity that is different from a standard Fino. This one is a great showcase for these kind of aromas. Let's hope in the future Alexander Jules becomes available this side of the ocean.