Pedro Ximénez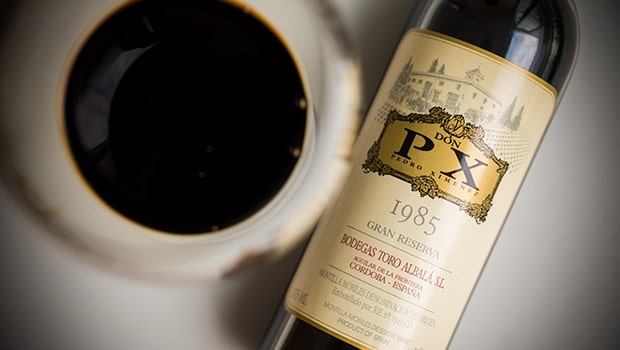 Published on March 5th, 2014 | by Ruben
0
Don P.X. 1985 (Toro Albalá)
This is a vintage Pedro Ximénez of around 28 years
In 1970 Toro Albalá was the first Montilla bodega to commercialize a sweet Pedro Ximénez dessert wine and it's still one of the experts in vintage P.X. wines.
Although añadas are not very common for dry types of sherry, they are easily available for P.X. versions, and they go back until early 1900's. Recently their 1946 was the first sweet wine ever to receive 100 points from Robert Parker. Nowadays the bodega also has Fino, Amontillado and Oloroso wines but they're all produced from Pedro Ximénez grapes. Check their Fino Eléctrico for example.
Wines in the Toro Albalá Gran Reserva range are matured for at least 25 years (in fact I think this is more or less the age at which Pedro Ximénez properly starts to shine – younger versions are often too cloying). This one, a 1985 vintage, was bottled in 2012.
Don P.X. Gran Reserva 1985 (17%, Toro Albalá 2012)
Nose: old P.X. can really show savoury notes. Here it's mostly rosemary and Dutch liquorice candy. Quite some smoke as well. Roasted coffee beans. Tobacco. Plenty of black olive tapenade as well. Classic figs, dates and raisins too, but more as a supporting act. Subtle hints of graphite. Really interesting.
Mouth: very sweet of course but not too cloying. Chocolate coated figs. Black cherries. Maple syrup. Toffee. Nice degree of acidity to balance the sweetness. Some earthy overtones. Liquorice and pepper. Something of Turkish coffee as well (the kind of thick, bittersweet coffee).
Availability: hard to get but other vintages like the 1983 (also bottled in 2012) are quite similar. Around € 20 for a half bottle or € 40 for a full bottle.
Summary: As a medium-aged Pedro Ximénez, this is a textbook wine. It's rich and sweet but it also shows more acidity and savoury elements than younger versions of Don P.X.