Moscatel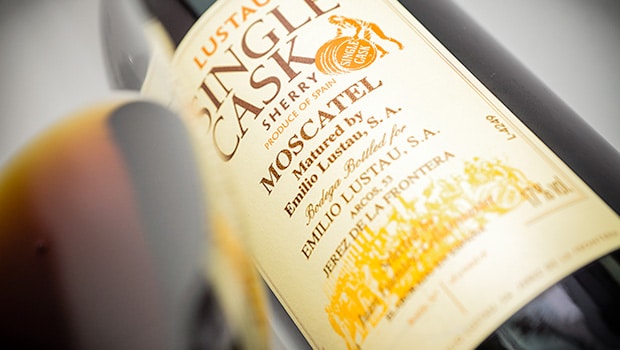 Published on October 7th, 2014 | by Ruben
0
Moscatel Single Cask (Lustau)
A Moscatel wine bottled from one single cask, taken out of the solera
Single cask sherry is rare. As a solera-matured drink, blending the end result is a key element in the development of sherry, but sometimes a certain cask stands out for having a special character or a higher complexity. These kinds of casks deserve to be taken out of the solera and bottled on their own.
In this case, we're trying a Moscatel Single Cask bottled by Bodegas Lustau for Vila Viniteca, an excellent wine shop in Barcelona with an impressive range of sherry. In the same series, released in 2004, there's also a single cask Amontillado 'El Carro', a Palo Cortado 'Bodega Capataz' and a single cask Pedro Ximénez. Each cask was selected by Lustau's cellarmaster at the time, Juan Fuentes Romero. The back label tells us each release is limited to 600 bottles.
Moscatel, like Pedro Ximénez, is a sweet wine made of sun-dried grapes with the same name (Muscat of Alexandria). Nowadays most Moscatel grapes are grown in the area around Chipiona.
Moscatel Single Cask (17%, Lustau 2004 for Vila Viniteca)
A really dark wine, brown and almost opaque.
Nose: at first this seems very similar to a Pedro Ximénez, with sweet dates, raisins and dried figs, but it's a little more subtle. There are also floral notes and citrus. Honey and marmalade. Hints of toffee. Some light hints of toasted oak and walnuts as well.
Mouth: smooth at first, but with more acidity than most P.X. (some lime and fresh grapes). Hints of floral honey. Sweet but there's a real kick of spices, a peppery heat and soft tannins (grape skin) in the end as well. Long finish, caramelly but not cloying. Nice hints of smoke in the aftertaste.
Availability: still available from Vila Viniteca for € 42.
Summary: A very sweet sherry, balanced by a decent acidity and spicy character that sets it apart from comparable P.X. wines. I'm not really sure why this specific cask was selected, but it's a good after-dinner wine nonetheless.