Fino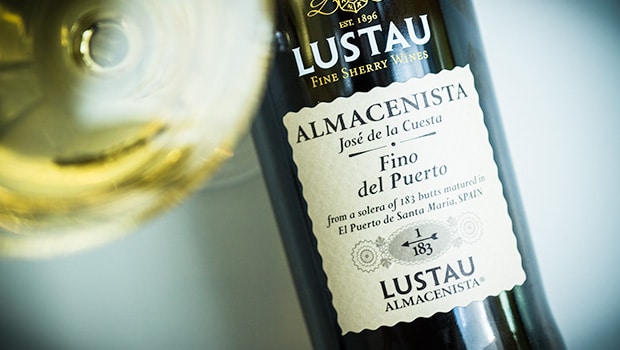 Published on August 11th, 2014 | by Ruben
0
Almacenista Fino del Puerto (José de la Cuesta)
José de la Cuesta started as an almacenista, but nowadays the company is part of the Grupo Caballero
José de la Cuesta started a liquor business in El Puerto de Santa Maria, the small seaside town of the sherry triangle. He produced different types of sherry as well as coffee liqueur, Ponche, whisky…
His bodega was acquired in 1932 by Luis Caballero, forming the Grupo Caballero, which now also owns Lustau. Nowadays there's even an individual Cuesta range of sherries, mainly bottled for the German market. This means Cuesta is not strictly an almacenista any more, but rather one of the brands of Caballero. Oh well… let's just condone this little detail – in any case this wine is part of the Almacenista range by Lustau. It won several medals in different contests like the IWSC.
The solera that produces this Fino consists of 183 botas. Note that the former Cuesta bodega in the Calle San Bartolomé, where this solera is located, now also houses the Pavón Puerto Fino solera.
A Fino del Puerto tends to be different from Finos matured in Jerez. The specific location, close to the sea, results in cooler temperatures and a more humid environment, ideal for maturing Fino. In addition, a Fino del Puerto is often a little more acidic and regularly shows an aromatic element close to what is called 'petrol' in Rieslings.
Fino del Puerto – José de la Cuesta (15%, Lustau Almacenista 2013, 1|183, 50 cl)
Nose: starts on dried seaweed and salted almonds. Then smoother marzipan. Indeed also a soft oily / waxy / diesel-like aroma that is typical for El Puerto, although I've tried examples that displayed it more clearly. Also a very light, fragrant note, like bergamot.
Mouth: a fairly acid and saline attack. Overall rather light-bodied though, and creamy. Grapefruit juice, lime and brine. Dried Mediterranean herbs. Nice evolution towards nutty notes in the end, with even a hint of toasted nuts / mocha in the finish.
Availability: usually quite easy to find from one of the many Lustau distributors. Only available in 50 cl bottles, around € 20-25.
Summary: Quite smooth compared to Jerez Finos, although the specific aromas in the nose give it a little extra. A nice Fino del Puerto.