Cream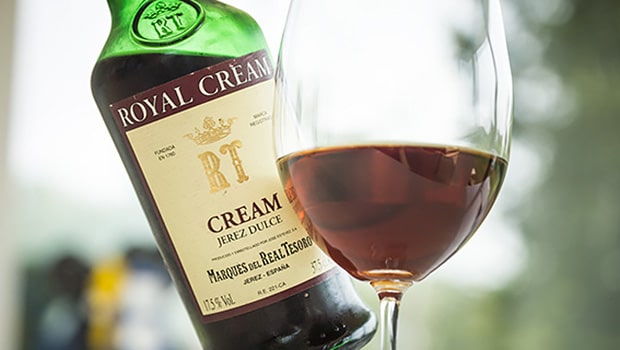 Published on October 22nd, 2013 | by Ruben
0
Royal Cream (Marqués del Real Tesoro)
The Marqués del Real Tesoro brand is part of the Grupo Estévez, who bought it in 1982 and moved the bodega to modern premises in 1989. The group also bought Valdespino and the soleras of both brands are now housed in the same place.
Royal Cream contains 75% Palomino grapes and 25% Pedro Ximénez
The Royal Cream is a blend of Oloroso sherry and Pedro Ximénez, matured using the traditional Solera system. Cream Sherry is still one of the most popular styles in some markets, due to its pronounced sweetness, but it is also one of the most dubious wines within the D.O. Jerez / Sherry / Xéres, as the sweetness can easily mask an inferior wine.
Although Marqués del Real Tesoro has some fine old sherries, such as El Amirante, Del Principe or the Fino Tío Mateo, Royal Cream is part of its low-end range and intended to be a real supermarket sherry (check out Mercadona in Spain, you'll probably find it there).
Royal Cream (17,5%, Marqués del Real Tesoro 2010, 75 cl)
Nose: rather flat. There are figs and dates, as well as some oak, but it seems fairly young with lots of sweetness and a disturbing alcoholic tang. It smells like a normal red wine with added sugar syrup.
Mouth: a similar impression. A bit of a synthetic sweetness (lots of caramel), alongside woody flavours and a metallic edge.
Availability: Around € 10 for a full bottle. A half bottle can be found for € 5 in Spain.
Summary: This is a supermarket sherry indeed, without the feel of an artisan product - not exactly what we're looking for on this blog. It feels artificially sweet and complexity is low.