Oloroso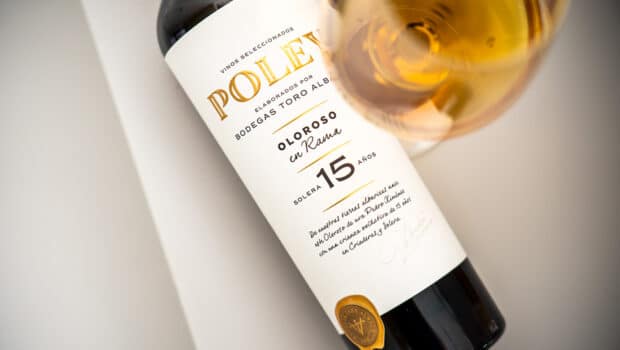 Published on June 23rd, 2022 | by Ruben
0
Poley Oloroso En Rama 15 Años (Toro Albalá)
A middle-aged Oloroso showing the typical glyceric touch of Pedro Ximénez
The Oloroso 15 Años is one of the standard bottlings in the Poley range from Bodegas Toro Albalá. This series holds a number of wines from different types and a wide range of ages.
It takes its name from the Marqués de Poley, where Poley (or Bulay) is the Muslim name for the home town of the bodega, Aguilar (8thcentury). In the 13th century it receives the suffix de la Frontera, just like Jerez and other towns in the area. Together these towns form the border between Christian Spain and the moorish part.
Like the other generoso wines in the D.O. Montilla Moriles, this is produced from Pedro Ximénez grapes without the addition of extra alcohol. As an Oloroso it matures oxidatively in the traditional solera system for around 15 years.
Oloroso En Rama 'Poley' 15 Años (17,5%, Toro Albalá 2021)
Nose: fairly rounded, with a lot of toffee and quite some vanilla from the wood as well. Furniture polish. Caramelized almonds, alongside raisins and light hints of dates. In the background there's a light smoky / toasted note too.
Mouth: dry but always showing this slightly glyceric side, which adds roundness. It shows quite a lot of fruity notes, like figs and dates. There is a brandy-like edge as well – the alcohol is not entirely integrated. This makes it a little contradictory: light flavoured and slightly boozy at the same time. Warm woody notes and spice (nutmeg, pepper) come out towards the end. Long finish with a firm salty fingerprint.
Availability: relatively limited. It is only available in 50 cl bottles. Around € 15-20, try Coalla Gourmet or Bodeboca for instance.
Summary: Somehow I'm not entirely convinced by this wine. It feels a little light and thin, while at the same time showing an boozy element. The classic dried fruits and polished oak are nice enough, but this definitely isn't a highlight in the portfolio of Toro Albalá.