Manzanilla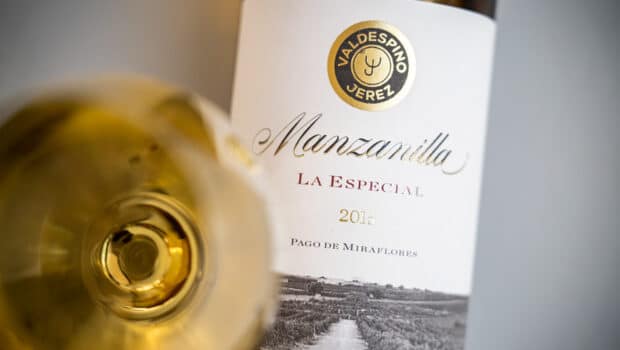 Published on August 25th, 2022 | by Ruben
0
Manzanilla La Especial 2015 (Valdespino)
In 2015 Valdespino noticed the high quality of that particular harvest and decided to reserve a series of Manzanilla casks during the initial phase of biological aging, when the flor was in full development. This grapes for this Manzanilla came exclusively from an old vineyard in the pago Miraflores, probably the most renowed vineyard zone around Sanlúcar. It is also the pago that gives us their Manzanilla Deliciosa for instance.
Unique to some of the plots in Miraflores (and some around Trebujena) is a type of soil called Lustrillo or Polvillejo, which contains a lot of iron oxide and tends to express ashy / smoky tones in the wine. Underneath this Lustrillo top layer (around 10-15 cm deep) there is a more classic Tosca Albariza which is more fragile and adds subtlety to the wines. In general this leads to rather vertical wines with a marked salinity.
In 2015 a total of sixteen casks were set aside and sealed by the Consejo Regulador as Manzanilla de Añada, maturing as a vintage sherry without the usual refreshments of the solera system. They aged separately and statically for 7 years. The first tasting took place in October 2021 and led to the selection of five casks which are now combined in this release of just 2800 bottles. No need to tell you this is an en rama bottling with minimal filtering.
The wine is presented in a Rhine style bottle. While this is quite uncommon in the sherry region nowadays, Valdespino already had a Manzanilla La Especial in the past. In the 1910-1920s this was marketed in a very similar bottle. It comes with a driven cork to underline its food pairing qualities (and perhaps its ageing qualities?). I love the elegance of the bottle but I have to admit the height is also a burden. It's almost impossible to put it back in the fridge once the cork is up.
Manzanilla La Especial 2015 (16%, Valdespino 2022, 2800 btl.)
Nose: very intense, with lots of haybales and chalk, but also big hints of chamomile and rounder pastry notes. Roasted almonds, old apples and grapefruits peels too. It's dry, zingy and punchy, with a lot of flor influence and maturity. The warming intensity even hints at a Fino sherry at times. Really good.
Mouth: nicely piercing and forthcoming, with a lovely acidity and a big salty character. Añada wines tend to combine elements that are normally not found together in a solera wine. In this case there's still some apple sharpness and a juiciness of white fruits that I associate with younger Manzanilla, but also spicy notes and richness that usually come in Pasada wines. Really briney, with lemon peels but also a warmer side of dried grass and hazelnuts. Green olives. Gets more herbal towards the end, leading to a mouth-watering finish.
Availability: limited of course, so better grab it if you have a chance. Around € 23-25. I found it at Coalla Gourmet and Vinos Cutanda for instance.
Summary: Statically aged sherry often displays younger elements (fruits) and older 'Pasada' elements (pastry, hay) within the same wine. This is a great example, and a great Manzanilla in general. High quality with a glorious intensity. Quite a gem, let's hope more vintages are waiting to be bottled.