Other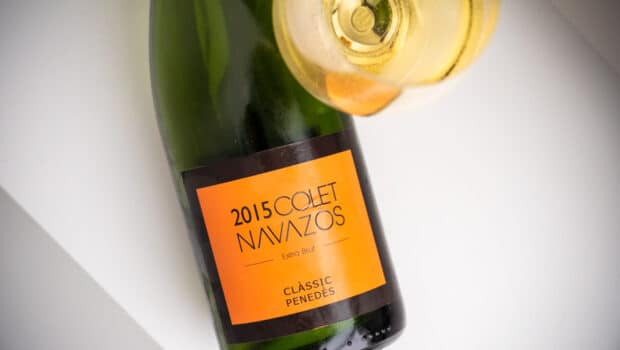 Published on January 1st, 2022 | by Ruben
0
Colet Navazos Extra Brut 2015
A sparkling Penedès that uses Amontillado and Palo Cortado as liqueur d'expédition
Colet Navazos is a collaboration between Sergi Colet (from a family that has been making wines in Alto Penedès since the 18th century) and Andalusian bottlers Equipo Navazos. Colet is making organic sparkling wines under the D.O. Penedès, a conscious rejection of the name Cava which has lost much of its appeal in their opinion. Since 2007 they are working with Navazos to create a Classic Penedès sparkling wine, in the traditional (champenoise) method.
They use Xarel⋅lo grapes from Colet vineyards, with secondary fermentation in bottle and 30 months of ageing sur lattes. The Andalusian influence is felt in the secondary fermentation and especially in the use of deviant dosage wines, namely Amontillado and Palo Cortado.
We're trying the 2015 Extra Brut which was disgorged in October 2018. There's also an Extra Brut Reserva  which is aged for 41 months with some Manzanilla and Manzanilla Pasada added as liqueur d'expédition.
Colet Navazos Extra Brut 2015 (12,5%, Colet + Equipo Navazos 2018)
Nose: more complex than a classic Cava, with some funky oxidative effects. That means more brioche and plenty of nutty aromas. Hazelnuts and toasted almond. Light acetaldehydes and some meaty, fleshy notes. Dried Mediterranean herbs, as well as some dried seaweed and rocks by the sea. The sherry influence is clear, and although I'm afraid uninformed tasters might think this is an overdue Cava, it really works.
Mouth: very dry, with a light sparkle. Again this is searching a subtle balance of ripe sparkling wine with savoury notes of Amontillado sherry. Dried apples and vegetal notes. Toast and bready notes, pecans and walnuts. Also a hint of leather and a light bitter edge of grapefruit peels. Really interesting.
Availability: you can still find the 2015 vintage but the latest is the 2018 vintage. Around € 20-30. Check Gourmet Hunters for instance.
Summary: Unusual sparkling wine balancing the line between sparkling Penedès and sherry. It's more Champagne than Cava perhaps, but still uniquely sherried too. I really like this, and it's a great apéritif, but it's not the kind of sparkling wine that you can serve without telling the story.