Vino de Pasto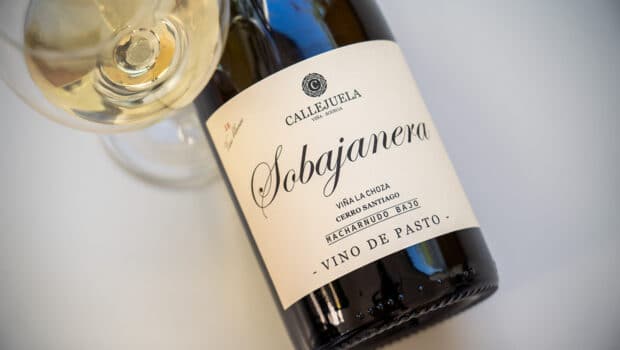 Published on April 22nd, 2021 | by Ruben
0
Sobajanera 2018 (Callejuela)
One of the unfortified Palomino wines that are getting closer to a young Manzanilla
Another new white wine from Palomino Fino, and once again the Blanco brothers from Callejuela bring something with a twist. Sobajanera 2018 is a Vino de Pasto, unfortified and made with grapes from their vineyard La Choza in the Cerro Santiago area. It is a part of Macharnudo Bajo bordering Macharnudo Alto.
The altitude and purity of the albariza make this a great terroir in the sherry region. You may remember La Choza from their Callejuela pagos wines or the Manzanilla Almacenista series.
The wine comes from one single barrel and had 24 months of biological ageing under a layer of flor. By the way, Sobajanera is an old name for a young jack-of-all-trades in farms and horse ranches in Andalucía. Usually a boy but in this case a girl.
Sobajanera 2018 – Vino de Pasto (13%, Callejuela, 696 btl.)
Nose: hints of hay, warm dune sand, and perhaps more chamomile than in some Manzanillas. Hints of sea air. Then light whiffs of almonds but also a ripe, sweet apple backbone. Quite weighty but also quite elegant.
Mouth: plenty of volume and plenty of intensity, again showing more weight than a classic white wine. The flor influence is quite noticeable, bringing it closer to a young Manzanilla / Fino than to a white wine perhaps (although it's hard to pin down in this "road to sherry" continuum). Nicely balanced between dry, mineral notes, savoury elements and these round echoes of fruit. A chalky edge with very light herbs in the finish.
Availability: very limited. Around € 18-25. I found a bottle at Xpertvinum.
Summary: An unfortified Palomino white from a highly regarded vineyard - quite obviously so. Two years under flor have left a mark, and although it's still a crossover white wine, I rather think of this as the 'lower limit' of sherry so to speak. It shows a lovely weighty character and firm profile. Really good.