Fino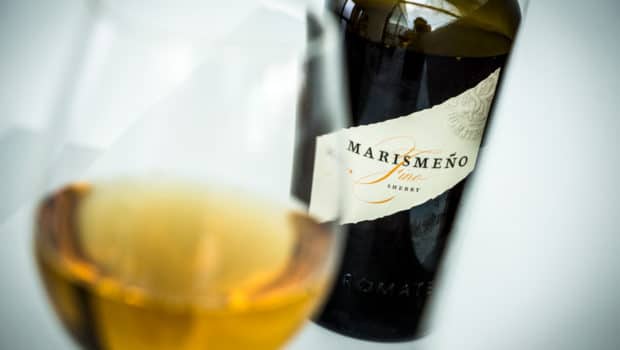 Published on April 18th, 2018 | by Ruben
0
Fino Marismeño (Romate)
Fino Marismeño is part of the Reservas Especiales, the premium range from Bodegas Romate if you like. As often with Romate, the technical details are not very clear: the Romate website says it is over 4 years old but other sources claim it is 7 to 8 years of age.
The grapes for this Fino come from Romate's vineyards in the pago Balbaína, west of Jerez towards Sanlúcar. The solera is spread over 4 stages with around 800 butts in total. It also feeds the solera system of the excellent Amontillado NPU.
The wine undergoes only a light filtration and bentonite fining before cold stabilization, something in between the heavy filtering of the old days and the current-day en rama style, I'd say. If you want even less filtration, check their Fino Perdido for instance (which can be hard to find though).
A marisma is a marshland for which Sanlúcar is well known. If you haven't seen the movie La Isla Mínima, you should check it out, it gives you a beautiful insight of the peculiar surroundings of Sanlúcar.
Fino Marismeño (15%, Sánchez Romate)
Nose: the colour already gave away slight oxidation. Quite some nutty aromas (almonds, walnuts, peanuts), shrubland and fresher, maritime notes and citrus. Red apples cut some time ago, sourdough bread aromas, dried yellow flowers and some vegetal notes.
Mouth: fairly wide and creamy, with a subtle sweet fruitiness at first (dried apple) but then a clean, dry and medium salty palate with lots of flor notes. Bitter almonds, a few herbal touches and pepper, yeasty dough. Bread (crust) again. Acidity is fairly low, which make it seem a little heavyweight. Good finish, with a nice sapidity and a tangy ending.
Availability: around € 15-20. For international orders, check Master of Malt or The Whisky Exchange for instance.
Summary: A really good Fino. The flavours suggest it is indeed around 7-8 years old, slightly older than what you commonly see in the market. Rich, mature, worth checking out.