Fino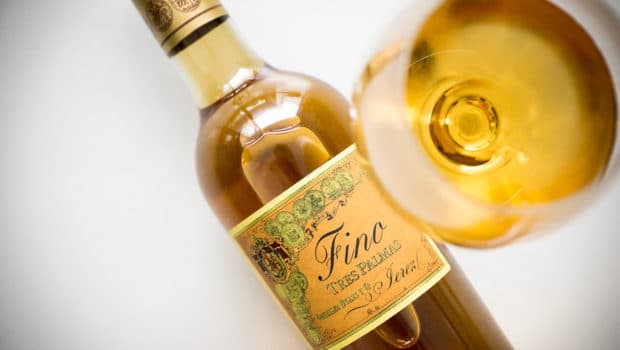 Published on October 26th, 2017 | by Ruben
0
Fino Tres Palmas 2016 (Gonzalez Byass)
Part of the yearly Palmas series from González Byass, this Fino Tres Palmas is an expression of 'flor in its most mature version'.
It is 10 years old (six years older than the regular Tio Pepe) and at this age, only specific barrels maintain a healthy layer of flor, which would normally have started to break up and disappear, making way for the development of an Amontillado. In the past this would have been a true Fino-Amontillado but this expression is not allowed any more.
Among 150 casks that had been monitored closely, winemaker Antonio Flores selected one unique bota n°5 as this year's Tres Palmas bottling. He was assisted by Master Sommelier and Master of Wine Gérard Basset (UK) to pin down the 2016 selection. It was bottled 14th October 2016.
Fino Tres Palmas 2016 will be part of the upcoming Sherry Twitter Tasting 2017. I asked four well-known sommeliers to list some of their favourite sherries of all time. Gérard Basset picked this one and will join us on Twitter to tell us more about his personal appreciation for this wine.

Fino Tres Palmas (16%, González Byass 2016, 50 cl)
Old gold with nice tangerine hues in the colour of this Fino Tres Palmas.
Nose: wonderful balance of typical old Fino aromas (stables, wet wool and hay, some leafy notes) with just flashes of Amontillado-like aromas. Hints of apricots and almonds, subtle toffee, light herbal notes. Fresh bread. Lemony notes. Some vegetal touches in the background. Old wood, waxed furniture. A hint of incense.
Mouth: intense and full-bodied again, with a creamy texture and lots of autolytic notes. Still the tangy feel of a proper Fino. Good acidity of lemons and apples, light bitter touches and toasted hazelnuts. Soft briney notes. Long, dry finish. There is a superbly regal elegance to this wine.
Availability: most of this is distributed in the UK and Spain, but other markets also have small allocations. Around € 40-45 for a 50 cl bottle, check The Whisky Exchange for international shipping.
Summary: The Fino-Amontillado category offers some of the greatest sherry experiences and this is one of the best examples: complex, nicely hybrid and intruigingly good.