Manzanilla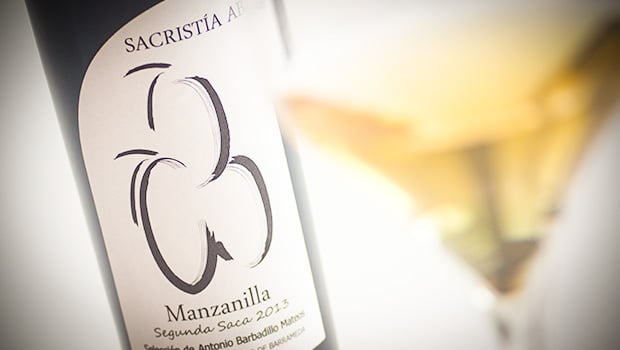 Published on April 15th, 2014 | by Ruben
0
Manzanilla Sacristía AB (2013)
Sacristía AB is a Manzanilla de autor, a wine that's not produced, but selected and botted by its brand owner Antonio Barbadillo Mateos. An independent bottler of sherry, if you like. Back in 2010, the original purpose was to start a whole range with different types of sherry, sourced from a variety of bodegas, but so far only this Manzanilla has been made available as far as I know, so maybe the project has been downsized a little.
Antonio Barbadillo (hence AB) is part of the famous Barbadillo family (known for its Manzanilla Solear among other wines), but he moved away from the family bodega in 2008 and started this new project with his wife.
Sacristía AB is a Manzanilla Pasada of around 8 years old
Manzanilla Sacristía AB is taken from 32 butts from an 80-butt solera in the Bodegas Sanchez Ayala (like some of the Manzanillas from Equipo Navazos, the biggest independent bottler of sherry). It is bottled in small sacas, usually two or more a year, always en rama to ensure a maximum intensity. We're trying the latest release Segunda saca de 2013, selected in November after a warm Autumn season. It was bottled at the end of January 2014.
Sacristía AB 'Segunda saca 2013' Manzanilla (15%, Antonio Barbadillo 2014)
Nose: oily and wide, but still smooth at the same time. Some salted almonds and green olives. Cider apple and chamomile. Subtle hints of iodine and flor, or maybe closer to dried mushrooms in this case. Very light touches of thyme as well. Quite harmonic, even on the delicate side for a Manzanilla En Rama.
Mouth: this is where its true intensity comes out. A vigorous attack, drying the whole palate. Moderate punzante flavours, but intense brine and olive juice. An exercise in intensity, one of the most up-front Manzanillas in my book. Moving towards bitter notes, with a very long finish. It seems like it's trying to be more invasive than complex in the mouth.
Availability: according to their website, limited to Spain. However I've found a 37,5cl bottle at Xpertvinum for around € 17.
Summary: Sacristía AB is balanced on the nose, but it really bursts open on the palate, with a wide, intense briny character. Its refreshing bitterness makes it particularly suited for food pairing.