Background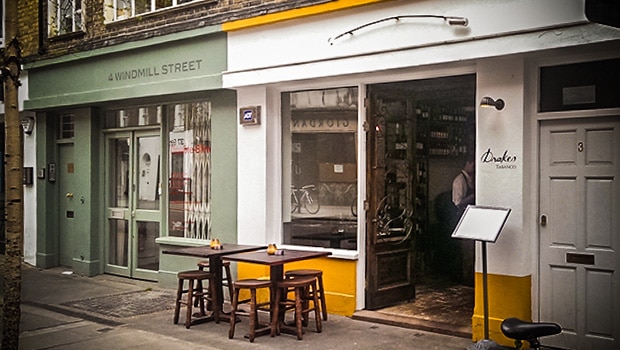 Published on June 30th, 2014 | by Ruben
2
Drake's Tabanco (London)
London's Fitzrovia area is the place to be for some of the leading Iberian restaurants and tapas bars in the UK. Drake's Tabanco is one of the newer offerings and it's taking a slightly different route by calling itself a tabanco. This would mean they're focusing on an old-school atmosphere and wines served directly from the barrel.
The surroundings are not entirely traditional (kind of a studied version, too bright for Andalusian standards) but really nice nonetheless. The Spanish staff is smiley, very helpful and professional at the same time. All good.
Sherry at Drake's Tabanco
Onto the sherry then. Drake's Tabanco offers a standard Fino, a Fino En Rama and five sherries straight from the barrel. Obviously the Finos are bottled, as the flor would die immediately outside of the Andalusian climate. All wines are brought in from Bodegas Fernando de Castilla – a consistently top class bodega.
I'm not over-excited about the idea though, I'm still not sure what the advantage is of storing sherry wines in barrels at a London restaurant. Sherry can't be transported abroad in barrel, so the barrels are fixed and they must be topped from bottles or other bulk containers. The more delicate types would probably stay fresher with less oxygen contact and in a cooler environment (although a good turnover will minimize this disadvantage). Drake's Tabanco serves its wines at room temperature, in frozen glasses. In the end I think the barrels are more of a show element, especially when the wines are poured with the traditional venencia.
Don't get me wrong: the sherry itself is exquisite and very much worth a visit! I started with the Fino En Rama, then a 30 years old Palo Cortado and the Rare Old India. Most of the wines are taken from the Antique series, though sometimes bottled from a younger criadera and not the solera row. The Rare Old India is exclusive to Drake's Tabanco, you won't find it in Fernando de Castilla's regular range.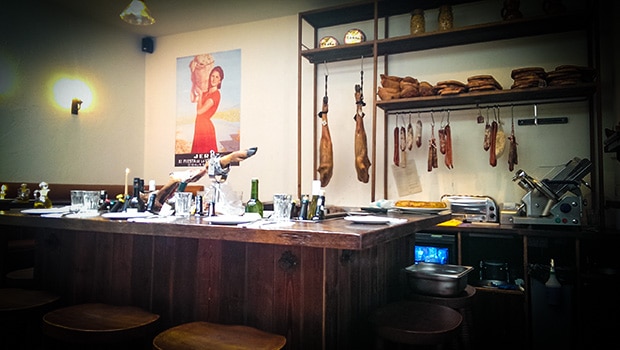 Sherry wines
The Fino En Rama was good, especially on the palate, but on the nose I've had more intense examples. The Palo Cortado was a totally different league. Very round and luscious, with vanilla, toffee, juicy oranges and lovely hints of varnish on the nose. The palate is also very round, with more than just a hint of sweetness. great sweet & sour balance, lots of citrus again, and then more briny and nutty towards the finish. Hardly any bitterness, which makes this a very accessible treat, comparable to the bottled Antique Palo Cortado. The Rare Old India (a blend of long-aged Oloroso and Pedro Ximénez) was definitely sweeter, but very elegantly so. The nose is full of figs with similar notes of polished oak and leather – a great sense of high age. It starts sweet on the palate but moves towards roasted notes, hazelnut and spicy hints to balance the sweetness. The finish returns to dried apricot and membrillo. The last two wines come highly recommended!
As a side note: it may surprise you that these seven sherries are actually the whole offering. It's Fernando de Castilla or nothing, except for one temporary special, which was the Fino La Panesa at that moment. Even though other places in London don't serve sherry from the barrel, most of them offer a larger range of wines.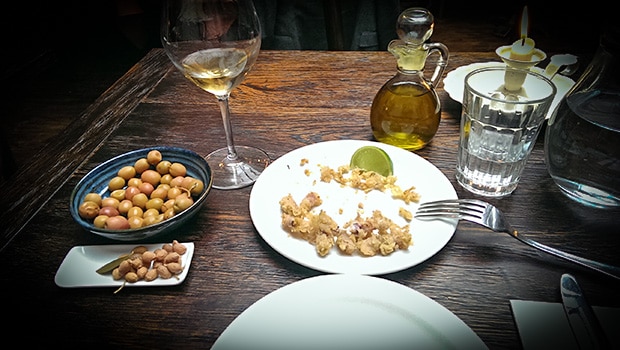 Food at Drake's Tabanco
We came for the sherry, but as Charlotta and her team explained, most clients come for the tapas / raciones and are then (sometimes) introduced to the world of sherry. I would call the food a Spanish – British fusion rather than actual Andalusian cuisine. That's fine, but I don't understand why some plates are plain English dishes – there's not a single typical Spanish dessert for example.
When you make the right choices, you can go for an authentic Spanish meal though. Arbequina olives, a range of cured meats and a series of dishes that can be ordered as a tapa or a larger plate. I went for the puntillitas (deep fried baby squids), albóndigas (pork & oxtail meatballs) and absolutely delicious carilleras (braised pig's cheeks with Oloroso gravy and hazelnut & potato puree). That last dish is a must.
Drake's Tabanco reviewed in The Guardian