Fino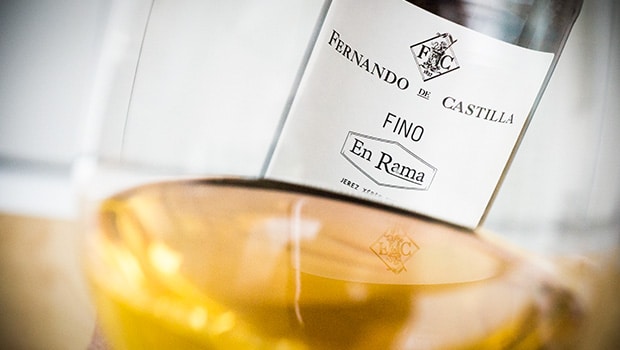 Published on December 2nd, 2014 | by Ruben
0
Fino En Rama (Fernando de Castilla)
Fino En Rama is not just an unfiltered version of Fernando de Castilla's other Finos
In October 2013, Bodegas Rey Fernando de Castilla bottled a Fino En Rama for the first time. Originally this en rama version (which hasn't been filtered or clarified, just lightly stabilized) was bottled by hand for Drake's Tabanco in London. It can be had during a meal, but you can also take home a 37,5cl bottle (£ 14).
The age of this Fino En Rama is 4-5 years. Mind that it's not simply the 'en rama' version of their regular Classic Fino (which is a modern-style, young Fino). Instead it is a blend of both the Classic Fino and their Antique Fino (an 8 years old Fino from a solera that was composed from barrels taken out of the Classic solera), usually one cask of each mixed together. They used to do two bottlings a year but now they only do one in Spring because they think it's the best moment.
It's worth noting that none of Fernando de Castilla's wines undergo aggressive filtering, yet the Fino En Rama does feel fuller and more intense than the Classic Fino.
Fino En Rama (15%, Fernando de Castilla, Oct. 2013, hand bottled for Drake's Tabanco)
Nose: quite intense, with nutty aromas (almonds, hazelnuts), sour dough and light hints of toasted oak. Hints of heather honey and dried fruits. There's also a faint metallic note. Nicely dry and savoury, balancing the rounder notes.
Mouth: rather rounded, more so than I expected. Still hints of dried fruits, before the saline notes and dried herbs take over. Slightly bitter finish with a soft peppery edge.
Availability: mainly in the UK and USA. Around £ 10 / $22 from specialist retailers.
Summary: Even though it's not my absolute favourite when it comes to Fino En Rama, this is still a high quality wine that's better and more full-bodied than any standard Fino. In the end I still prefer the old-style profile of the Antique Fino.