Manzanilla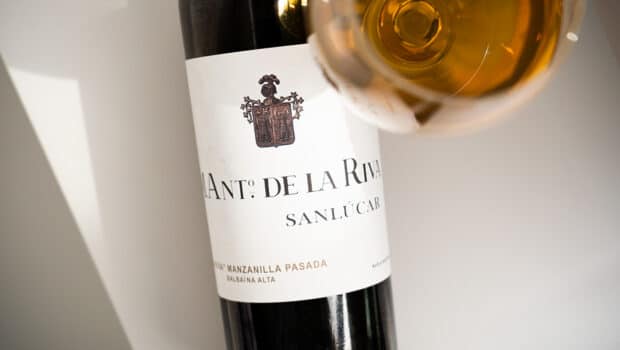 Published on April 1st, 2022 | by Ruben
0
La Riva Manzanilla Pasada (M. Ant. De La Riva)
M. Ant. De La Riva is the project of Willy Pérez and Ramiro Ibáñez. The name goes back to Manuel Antonio De La Riva, a bodega founded in 1858 in the Calle Arcos, Jerez. It was a small but highly regarded producer, acquired by Pedro Domecq in the early 1970s. Eventually it was left to gather dust and to be forgotten, with most of the wines blended away, much like that other legendary name Agustín Blázquez. Willy Pérez' father Luis used to work at Domecq and experienced the practices and wines of these brands before they came to an end.
De La Riva is a legendary name rescued from oblivion
Winemaking friends Willy and Ramiro bought the rights to the brand name and revived it in 2017. The labels are confusingly similar to the originals. On the one hand they are bringing back an unfortified Blanco Macharnudo made in the same vineyards that La Riva owned in Macharnudo. On the other hand they are bottling ephemeral wines from tiny soleras scattered around the sherry region, mostly taken over from small almacenistas.
Manzanilla Pasada – Balbaína Alta
This Manzanilla Pasada – Balbaína Alta is one of these almacenista wines, which comes from a small solera of just 20 botas. The previous owners produced their last vintage in 2012 on a small family parcel in the north part of the pago Balbaína Alta, known as Cerro de los Cuadrados. The vineyard was on albariza soil from the Tosca Cerrada type – a harder, greyish type of albariza with slightly lower chalk levels. Being around 45 years of age, the vines have now been uprooted. In some years the production was supplemented with grapes acquired from other growers in the surrounding plots.
After this last harvest of 2012 the solera was left to rest, without any withdrawals or refreshing for at least 6-7 years. The result was that the barrels only contained an average of 16 arrobas of wine. Remember one arroba equals around 16,66 litres, with an entire butt containing between 30 and 36 arrobas. That's a lot of merma, a lot of concentration over the years.
The bottled wine is between 15 and 18 years of age. For this saca (n°2 from 2020) they selected 7 barrels with a character that could still be named Manzanilla Pasada. The rest is already on the way to becoming an Amontillado and will probably be bottled as such in the future.
"La Riva" Manzanilla Pasada – Balbaína Alta (15%, M. Ant. De La Riva 2/2020)
Nose: lots of dried wildflowers and chamomile buds, with hints of old straw and curry spice. It also reminds me of my Tai Ping Hou Kui tea. A subtle sweetness with pastry notes and baked apple in the background, as well as some dried mushrooms. In short a layered, silky style that is not tired but not exactly intense either.
Mouth: a fairly gentle profile again, soft even, showing an unctuous texture. Fairly low acidity and no acetaldehyde pungency at all. It's definitely an 'advanced' Manzanilla profile but maybe not as concentrated as I expected. The baked apple character is still there, mixed with savoury and earthy notes. Then a subtle bitterness as well (from the cabezuela – dead yeast cells, I suppose). Dried grassy notes again, some aniseed, with a deep salinity and mineral notes. Lightly bitter notes and straw in the finish.
Availability: hard to find and quite expensive. Around € 50 from sites like Decántalo, Andaluciadevino or Xpertvinum (among others).
Summary: It's always great to try wine relics and this is no different. A really gentle, velvety old Manzanilla at the end of its life. An excellent match to a mushroom risotto or something with artichokes, I would say.