Fino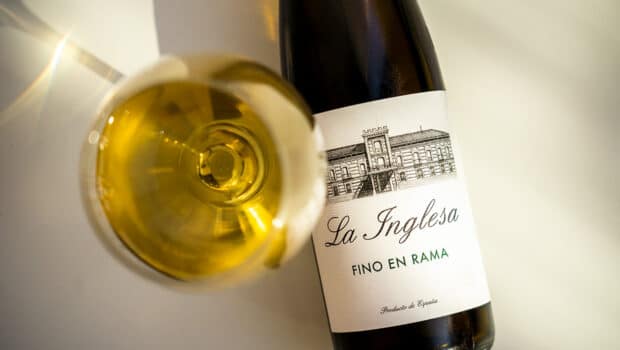 Published on September 3rd, 2022 | by Ruben
0
Fino En Rama (La Inglesa)
La Inglesa is one of the lesser known bodegas in Montilla – Moriles. A couple of years ago father and son Doblas decided to give their wines a bit more exposure, after producing them only for family consumption.
The name of the bodega refers to the wife of Don Diego Alvear y Ponce de León, of the Alvear bodega, who built a neoclassical mansion in Montilla at the end of the 19th century. His wife was English, so she and the mansion were known as La Inglesa.
The family owns stocks in many styles, some of which are very old. Currently they are bottling this Fino En Rama, as well as a Fino Pasado (the lost style in between Fino and Amontillado), an Amontillado and Palo Cortado. Biological ageing takes place in the Lagar de las Feas in the town of Moriles. The older, oxidatively aged wines are kept in the La Inglesa palace itself.
The Fino En Rama reviewed today matures in a solera system for around 6-7 years. It starts from second-year tinaja wines, ageing under a veil of flor. They are using some 80-year-old American oak barrels that once belonged to Bodegas Domecq. The Pedro Ximénez grapes come from their vineyards in the Moriles Alto zone.
Fino En Rama (15%, La Inglesa, Saca 06/2022)
Nose: quite a yeasty profile, full of flor. It starts on rising dough with cheesy top notes. Later also wet stones and greens. Hints of sweet almond, warm anise and seaweed in the background.
Mouth: quite firm and intense, with a good acidity. At the same time a marked bitter edge runs throughout this wine. Then leafy notes appear, as well as chestnuts, walnuts and a mineral dryness. Almonds. Liquorice too. Then it turns to haybales with lots of grassy notes in the finish.
Availability: very limited. I found a bottle at Coalla Gourmet for € 14,50, while Lavinia is offering it for € 21,50. Mind that it comes in a 50 cl bottle so the price is quite high. In fact this is also true for their other wines like the Amontillado.
Summary: This wine is well taken care of, and different from most other Finos from Montilla with quite a firm profile. That said, the yeasty and cheesy notes, coupled to the marked bitter side may not work for everybody. I'm left with a feeling that it doesn't match the premium impression that comes from the higher price and the 50 cl bottles.