Vino de Pasto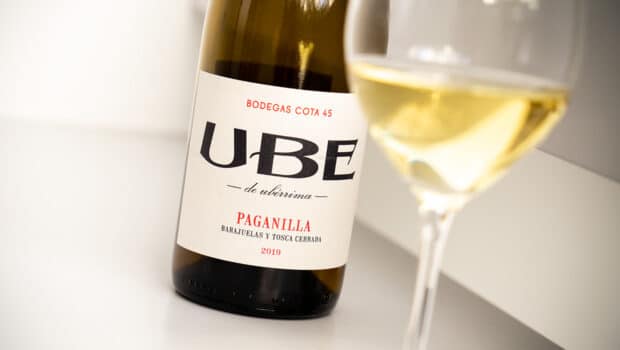 Published on June 23rd, 2021 | by Ruben
0
UBE Paganilla 2019 (Cota 45)
Paganilla is one of the atlantic vineyard zones in the sherry region
UBE de ubérrima has become a series of unfortified Palomino wines from different vineyard zones around Sanlúcar de Barrameda: first Carrascal and Maina (since 2015), later also Miraflores and Paganilla since 2018. Winemaker Ramiro Ibáñez sets the bar high with these 'missing links' between white wines and Manzanilla, if you like.
UBE Paganilla is made from two small vineyards on albariza soils with a high content of fossils, the famous diatoms that are relics from the sea lake that formed long ago. It is named after the pago Paganilla, which is the most inland of the atlantic pagos in the Marco de Jerez. The terroir is quite similar to Maína, yet a little less muscular but slightly more complex as well.
This is one of the smallest pagos (only about 23 ha). Historically it has always been an area of small winegrowers with dispersed plots. The vines were planted in 1959 (top of the Paganilla hill, Tosca de Barajuela type) and 1979 (lower south corner on Tosca Cerrada soil). Like the other UBE wines, it is fermented and aged in old sherry casks. Flor appears for two months, while the total ageing is about eight months.
UBE de ubérrima Paganilla (12,5%, Bodegas Cota 45)
Nose: earthy, mineral nose with some yeasty touches, some cider apple and hints of lime peels and lemon juice. Fresh hints of fennel and dried herbs. Subtle hints of oxidation as well.
Mouth: fresh, with high acidity and lots of saline notes. Green apples, lemons and lime. Still some herbs and light earthy notes, giving it a bit more muscle. Perhaps a little less wild than the sister wines from other pagos though, quite refined.
Availability: around € 16, check Vinissimus, Gourmet Hunters or Coalla Gourmet for instance.
Summary: UBE Paganilla is crisp and easy to drink, with a high acidity and plenty of mineral notes. An atlantic character, rather muscular but particularly elegant at the same time. Recommended if you're looking to discover the unfortified wines of Sanlúcar.