Vino de Pasto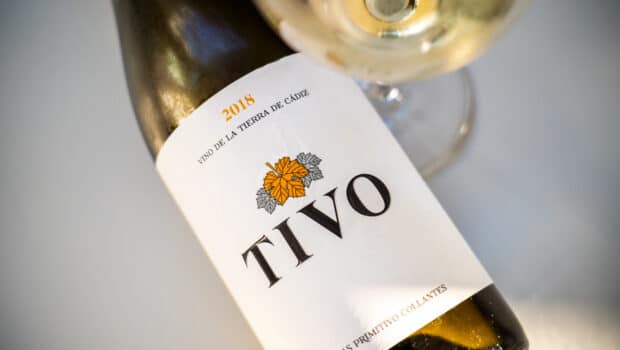 Published on October 20th, 2021 | by Ruben
0
Tivo 2018 (Primitivo Collantes)
Currently the only monovarietal wine made from Uva Rey, one of the recovered grapes of the sherry region
Tivo is the latest experimental wine from Primi Collantes in Chiclana. This unfortified white is made with the autochtonous but almost extinct grape varietal Uva Rey (also known as Mantúa or Chelva), which used to be relatively common in the sherry region – especially in Chiclana – at the end of the 19th century.
Around 2015 the winery planted an extra six hectares of vines on albariza soils in the Finca Matalian, and after a study of old varieties they decided to recover the 'King of the grapes' of which only 75 vines were left in Chiclana. This low-yielding grape is characterized by a crunchy, thick skin and a marked acidity, but also by its late ripening: it's typically harvested towards the end of October or beginning of November.
Tivo 2018 is now the only monovarietal example of this grape in the market (his grandfather had a similar wine until the mid 1970s). The wine was fermented and rested in old Fino sherry butts for six months, then another six months in stainless steel, and finally one year in the bottle. There's no flor involved. The wine was released late 2020 and it's a tribute to the winemaker's father, also called Primitivo and shortened to Tivo.
Tivo 2018 (11,5%, Primitivo Collantes 2020, 900 btl.)
Nose: there are similarities to Palomino whites, showing plenty of crisp mineral notes, wet gravel, sea shells and a touch of metal and petrol. A series of floral and herbal notes as well, dried marjoram and thyme. On the other hand it seems to have a slightly bigger fruitiness at its core, compared to Palomino, with some ripe apple and a touch of quinces.
Mouth: fresh and dry, with a marked citrusy note, chalk and green vegetal notes like fennel. Something hoppy? Even a slight tarry note hidden in the background, interesting. Chamomile as well. After a while hints of grapefruits return, leading to a medium-long, slightly bitter finish.
Availability: limited and quite expensive: around € 37 from Bodeboca for instance.
Summary: Uva Rey offers a nice differentiation and an interesting insight in these lost grapes. It's fresh, nicely citrusy with a great mineral backbone. Somewhat riper and fruitier than Palomino examples. Not cheap but worth discovering, another wine to follow up!