Manzanilla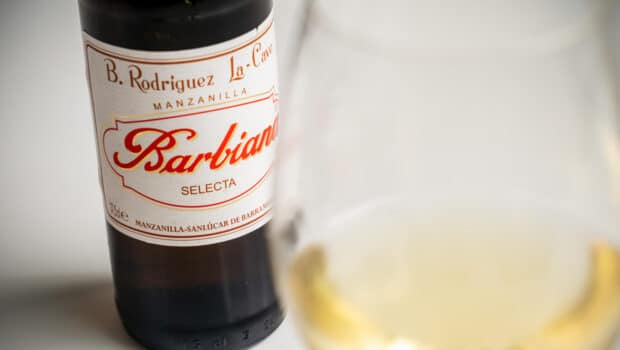 Published on November 22nd, 2021 | by Ruben
0
Barbiana Manzanilla (Rodriguez La-Cave)
Barbiana is a Manzanilla Selecta which still carries the name of the original bodega
Manzanilla Barbiana is a well known and respected name. Since 1978 it is produced by Delgado Zuleta but it still carries the name of the bodega that started the solera around 1900 in the Barrio Alto in Sanlúcar: B. Rodríguez – La Cave. Members of the Rodriguez family still own part of Delgado Zuleta and the name is still found on three wines: Barbiana, the amontillado Goyesco and the excellent Quo Vadis?
Barbiana was one of the top Manzanillas especially in the 1950-1960s when it was still bottled as a Manzanilla Pasada. Like many others, it evolved to a younger wine due to changing preferences in the market. It is now around 5 years old, still a little bit older than most wide-scale Manzanillas, hence the addition Manzanilla Selecta, I guess. The website even mentions traces of Amontillado, but compared to a true Manzanilla Pasada (Solear and the likes) this feels rather light to me.
The grapes for this wine come from the pagos Miraflores Alta (near Sanlúcar, known for its tosca cerrada soils) and Balbaina (closer to Jerez, a bit warmer but still known for its freshness and elegance). The solera is kept in the highest part of the bodega in order to benefit from the sea breeze, whereas the other Manzanilla from Delgado Zuleta (La Goya) is kept in a lower part.
Manzanilla Barbiana (15%, Rodriguez La-Cave)
Nose: quite a mineral and vegetal nose. Lots of dried shrubs by the beach, as well as some seaweed, green almonds, sunflower seeds and plenty of yeasty notes (almost beer-like). Dried Mediterranean herbs and dried wildflowers. Wet rocks. Subtle lemon and bruised apple. A very light hint of oxidation as well.
Mouth: still very mineral, with bright citrusy notes, more almonds and flor. There's a certain sharpness to it, with traces of bitterness, herbs and salinity. Hints of walnuts after a while. Quite a long, dry and umami finish.
Availability: mostly seen in Spain and the UK. Try The Whisky Exchange, Decantalo or Bodeboca for instance.
Summary: A nice example of the umami character that is found in Manzanilla. I wouldn't call this a classic Manzanilla Pasada but there's definitely a light hint of oxidation and autolysis to be found.