Fino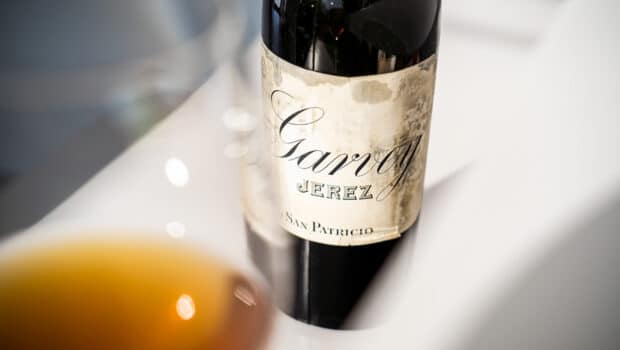 Published on June 29th, 2021 | by Ruben
0
Fino San Patricio 1960s (Garvey)
San Patricio was one of the big brands of Fino in the 1960s
Some time ago I bought three bottles of Fino San Patricio, the flagship Fino from Bodegas Garvey. They were all 37.5 cl bottles in very good condition with a very high fill level.
Garvey is one of the oldest bodegas in Spain, with a history that goes back to 1780. Its fame was quite significant from the mid 19th century until the late 1970s. Around 1850 Garvey was the biggest shipper in Jerez and San Patricio was the first modern Fino wine to gain commercial success. Its warehouse was the largest in Jerez at the time. Too bad they were taken over by Rumasa – the company never really got over this and now (after a short rise under the Emperador group) appears to be lost forever.
However we should remember the name and keep in mind that this was considered one of the big Finos of all times.
The bottle I'm opening probably dates back to the first half of the 1960s. It has the same reference to the impuesto provincial a metalico that I also saw on old labels from M.Ant. De La Riva and Pedro Domecq from that era. A good way of dating old bottles is to look for advertising from different years and the best match I could find was an ad from 1960. It has the exact same label and shows the peculiar 'ribbed' metallic closure around the stopper, which seemed to have disappeared in the second part of the 1960s.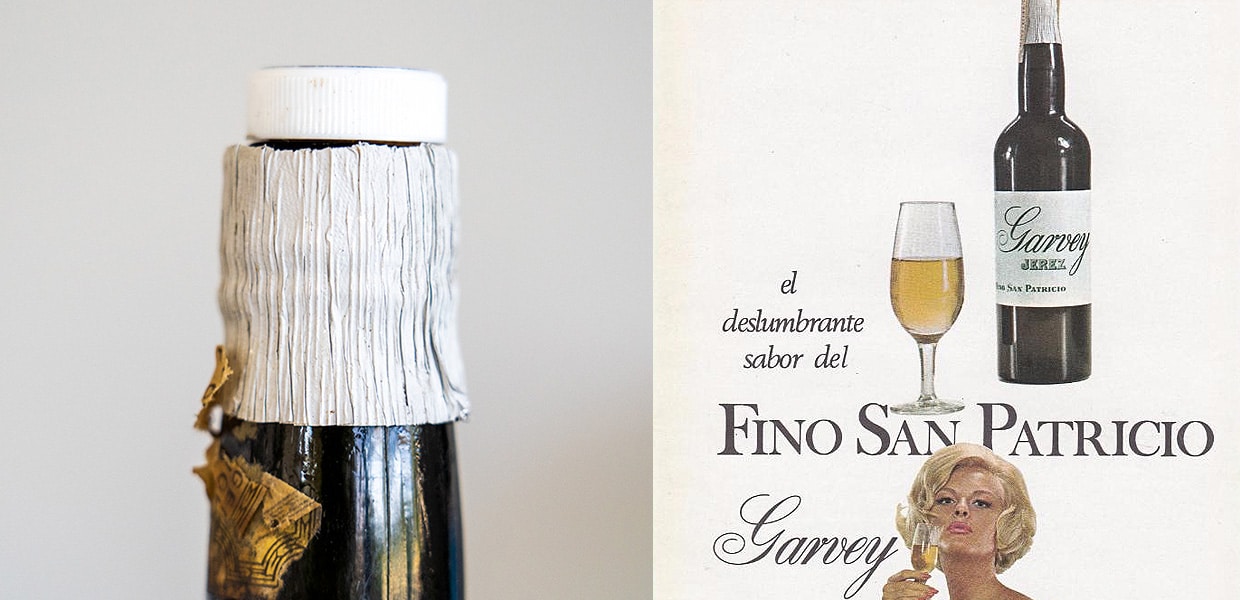 Fino San Patricio (Garvey, early 1960s, 37,5cl)
Nose: awesome. This has such a great biological side, after all these years! It has all the minerals, the esparto grass, the punzante character, the light iodine and warm beach sand, the stable aromas (sheep's wool)… Just wow. Also a bit of bruised apple and leathery notes. In the background we find more Amontillado notes, like toffee and a hint of brown sugar, as well as hazelnuts. Such complexity.
Mouth: fresh from start to finish, with lovely lemon juice and olive brine as a red thread. Based on the colour I expected a bit more oxidition but this has all the sharpness from a Fino (que va para Amontillado). Perhaps leaner than it once was though. Balanced chalk and herbal notes. Plenty of zesty citrus and salinity, with the lightest hint of walnuts. Even a subtle smoky touch in the end. Long finish, superbly clean.
Availability: well, two more bottles in my cellar…
Summary: This is awesome: it may well be the freshest Fino I've had after so many years in the cellar. A great advocate for bottle ageing and proof of the quality of this wine. Oh, and who said we should use magnums for bottle ageing?