Other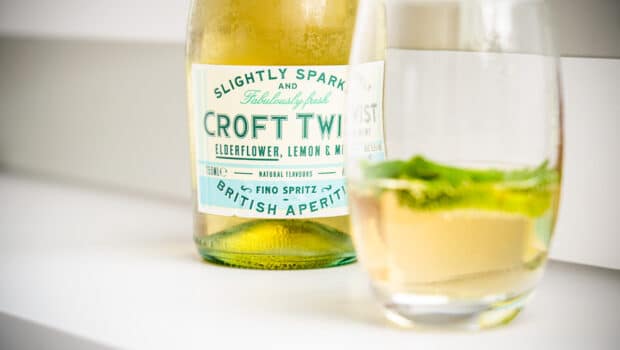 Published on August 9th, 2021 | by Ruben
0
Croft Twist – Fino Spritz
A ready-made Fino Spritz with a hint of mint and elderflower
Croft Twist was launched by González Byass in 2017. They call it a Fino Spritz, a ready-made combination that is rooted in the Sherry Cobbler. This British tradition originated in the Victorian era as a mix of sherry, sparkling water, sugar, lemon juice and peeled ice. In the mid 1980s a modern version was born: the Rebujito.
Back to Croft Twist, which is yet another variation on the theme. It can be described as a cross-over between a Rebujito and the Italian Hugo spritz: it blends freshly made cordials of elderflower, lemon and mint with around 25% of Croft Fino and sparkling water. As you know the Croft Original is a Pale Cream, a Fino sherry sweetened by cooked down grape must. The brand was launched by Robert Byass, a British wine merchant which ended up becoming a partner at González Byass, his supplier at the time.
The entire category of Pale Cream sherry is still almost exclusive to the UK. Research showed that 30-45 year old female drinkers are the primary market for Croft Twist, so now I'm hesitating to admit I like it too…
Croft Twist (5,5%)
Tasting notes: a very bright, refreshing drink. The finesse of the elderflower and mint are great, and I love the fact that the acidity is bigger than the sweetness (often an issue with these kind of ready made drinks). The Fino character does show, but even if you don't like Fino, it may still go by unnoticed.
Availability: originally in 75cl bottles for about € 9. While originally only in the UK market, it is now also available in other markets. Since late 2020 it is also available in 25cl cans. Master of Malt is selling a 12-pack for around € 33.
Conclusion: I love this as an aperitif in summer, or as a drink by the swimming pool. The elderflower, mint and lemon make this a very refreshing drink and you still get some Fino character.