Other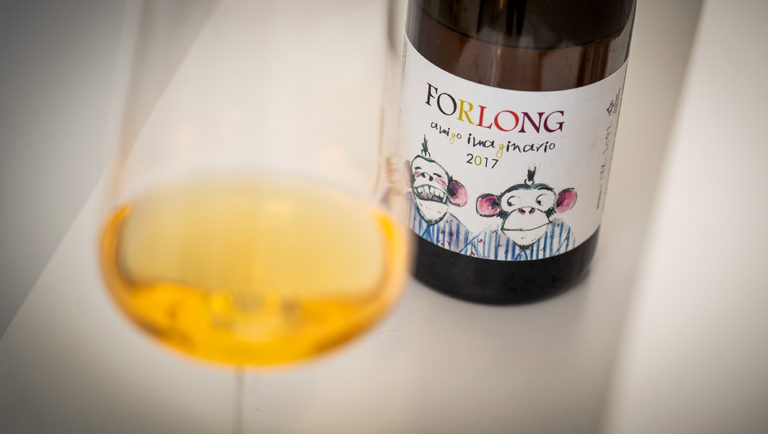 Published on March 27th, 2020 | by Ruben
0
Amigo Imaginario 2017 (Forlong)
An orange wine from Palomino, that's more or less what Amigo Imaginario is.
It starts with 100% Palomino grapes from the Finca Plantalina in the pago Balbaína Alta, from biodynamic vines that are 40-50 years of age, on albariza soil (sub-type Lustrillo). The grapes are manually harvested, chilled to 3-4°C for 24 hours, crushed and fermented with skins for 25 days. The wine is then aged in one Oloroso sherry butt, which is sealed to prevent the forming of flor and oxidation. Malolactic fermentation takes place in the cask, where it stays for around 10 months. After bottling it also settles for 4 months in the bottle.
This is called imaginary friend as it unites several traditions: white and red wine production techniques, but also unfortified wine coupled to a Oloroso sherry barrel. The current-day complexity of the sherry region in a glass, so to speak.
The name Bodega de Forlong comes from the olivar de Forlón by the way, an ancient olive grove and vineyards which belonged to a British merchant called Peter Furlong who was also involved in sherry production (Bodegas Matthiesen Furlong, dissolved in the 19th century).
Amigo Imaginario 2017 (12,5%, Bodega de Forlong, 3092 btl.)
Nose: wonderful. You get the quinces (membrillo) and ripe grape notes, as well as hints of apricots, even hints of ripe mango and passion fruit in the background. A little blossomy honey. The character of the Oloroso is also noticeable, with lightly toasted almonds and caramelized, almost smoky touches as well as exotic wood. Subtle mineral notes keep it fresh, despite the ripe fruit character.
Mouth: dry, yet with a glyceric touch of roundness. Just a hint of dried fruits, but now more towards bitter oranges. The sapidity and saline side is quite remarkable. More herbal, nutty and oaky notes towards the end, with a firm bitter edge and a slightly demanding, almost astringent finale. Fresh and exciting from the start until the very end though.
Availability: around € 18-22. For international shipping, try Bodeboca.
Summary: This is a superb wine, a cross-over on so many levels and it's not just 'interesting' but also damn tasty. Although it's not an oxidative wine, the Oloroso brings something savoury and a hint of oxidation to the table. One of my favourites from this bodega.