Other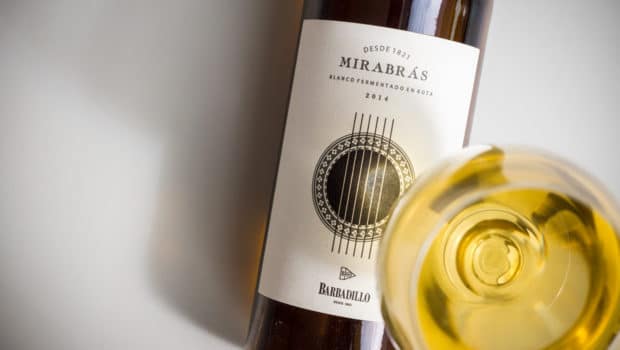 Published on March 30th, 2018 | by Ruben
0
Mirabrás (Barbadillo)
Mirabrás is an unfortified white wine infused with sherry character
The last few years there's a tendency to explore the boundaries of sherry. Think unfortified sherry, very young Palo Cortados, vintage Fino and Manzanilla, working with forgotten grape varieties etc. There's also a tendency for bodegas to come up with sherry-influenced table wines, a category pioneered by Navazos Niepoort if I'm not mistaken.
Mirabrás is one of these modern table wines (Vino de la Tierra de Cádiz) that flirt with sherry. This white wine is produced by Montserrat Molina at Barbadillo from Palomino grapes in the El Cerro de las Leyes vineyard (pago Santa Lucía). The grapes were briefly sunned and the mosto was fermented in old Manzanilla casks. It was aged a few months on thin lees, then a few months in bota and then 18 months in stainless steel (including some biological ageing under a light layer of flor). Asoleo, fermentation in wood… the old-fashioned way of sherry production now applied to a white wine. In a way Mirabrás is an old-style sobretabla, albeit unfortified.
Mirabrás 2014 (14,5%, Barbadillo, 2000 btl.)
Nose: an interesting mix of sweet wine aromas (quinces, sweet corn, honey, a touch of late harvest) with typical sherry aromas (brioche bread, Mediterranean herbs, clear camomile, touches of yeast). It's peculiar, a blend of two very different types of wine yet it kinda works.
Mouth: fresh with a balanced acidity. It bears the alcohol nicely. Now more on almonds, toasted bread, lime and overripe apples. Think of it as a mature Manzanilla with a bigger fruitiness and acidity. Soft salty notes, hints of seaweed and light resinous touches. A slight bitter edge of flor as well.
Availability: around € 15. For later years, check Bodeboca for instance.
Summary: Mirabrás is hard to classify and that is exactly why you should try it. An adventurous white wine infused with sherry character. It's great to pair with food and I think it serves well as an introduction to sherry for those who are not familiar with it.