Fino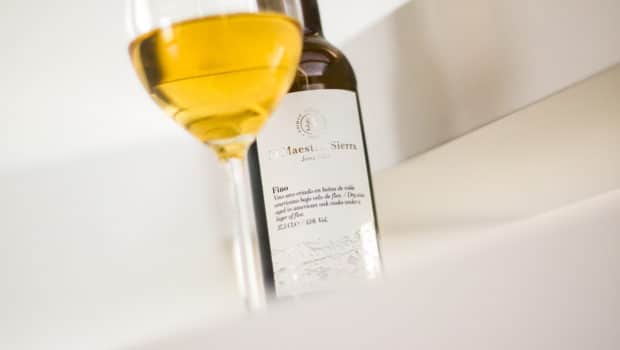 Published on May 9th, 2016 | by Ruben
1
Fino (El Maestro Sierra)
As often with sherry, it's hard to get conclusive information. The El Maestro Sierra website claims this Fino is 4 years old, while the US importers (and most other sources) have it at 6 years. In any case, it is aged in a solera of six scales (quite a high number for Jerez) and is typically bottled four times a year. El Maestro Sierra uses light filtering, almost en rama.
It's good to see that El Maestro Sierra clearly mentions the date of bottling on the back label – not so much to have a 'due date' but to give you an indication of its shelf time and let you choose the perfect moment of opening yourself.
Fino (15%, El Maestro Sierra 2014)
Nose: a rich nose with intense flor. Cashew and walnuts, with hints of toasted pumpkin seeds. Some ripe apple. Briney olive juice. Light rancio notes as well, even a few cheesy hints which work well here. It's a deeper, slightly more oxidative style than what you get from other bodegas. Maybe the slightly older bottle helped to intensify its character.
Mouth: again very flor-influenced, with a solid bitter side and some savoury notes, but low acidity and moderate salinity. Traces of ripe fruits give it a silky, creamy character. Thyme. Almonds. Medium finish, not the longest but highly balanced.
Availability: okay but prices tend to differ. Around € 7 for a full bottle in Spain and € 12-15 in other countries. Also available in 37,5 cl.
Summary: A really nice, assertive Fino, with more weight and more flavours than most others. A really characterful Fino that is a great ambassador for this artisan bodega.