Oloroso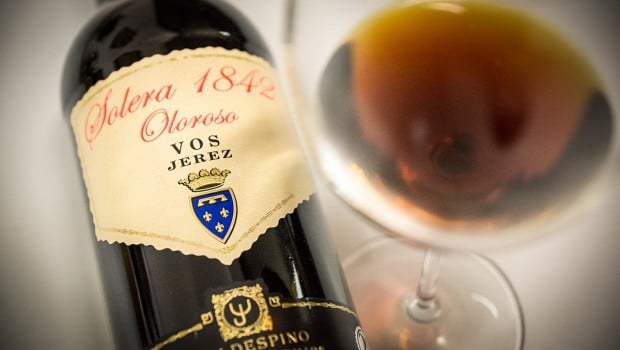 Published on November 19th, 2014 | by Ruben
2
Solera 1842 VOS (Valdespino)
An Oloroso abocado: old wine rounded off by a bit of P.X.
Solera 1842 is an Oloroso Dulce produced by Bodegas Valdespino, from a solera started in 1842 (duh).
It is a mix of dry Oloroso (Palomino grapes from the Carrascal and Macharnudo areas) with 8-10% sweet, very old Pedro Ximénez. This results in a sugar contents of around 45-50g/l, which means the wine is off-dry rather than thoroughly sweet.
Valdespino Solera 1842 is a V.O.S. wine – it's over 20 years of age, and more importantly: the wine spends almost half of its time as a blend. This makes the end result much more integrated and 'naturally sweet' than when the blend is brought together right before bottling.
Solera 1842 has a sister wine that is drier: Don Gonzalo, an Oloroso which had decreasing levels of sugar in recent years and now contains around 5-10 grams of sugar. Old labels of Solera 1842 say Rich sweet Oloroso, later replaced by Oloroso. However in the most recent regulations Oloroso has to be entirely dry so it had to be renamed Medium sweet – Very Old Oloroso blend. There is a general tendency at Valdespino to lower the sweetness of their sherries. Even the expensive Cardenal and Coliseo wines used to be slightly sweetened to round off the wood influence, but they're now virtually dry.
I've regularly added Solera 1842 to the line-up of sherry tastings I've hosted and it always comes out as one of the favourites. The sweetness makes it very easy to like, especially when you're looking for a relaxing wine to drink on a winter night.
Solera 1842 V.O.S. (20%, Valdespino)
Nose: toasted notes up front, as well as bags of dried fruits (figs, dates, raisins) and burnt sugar. Freshly baked vanilla cake. Hazelnut syrup and toffee. It shows a slightly ethereal side of polished oak and cinnamon. Cocoa dust.
Mouth: starts on sweet raisins, chocolate coated nuts, with fig bread, dates and a bittersweet side because of the old oak shining through. Turkish coffee. Burnt sugar. Walnuts. Traces of tangy acidity (think lemon zest) that's perfect alongside he sweetness. Long finish, on dark chocolate and roasted coffee beans.
Availability: as good as other Valdespino products, you'll probably find a distributor in your country. Around € 30-35 for a 75cl bottle. Half bottles also exist.
Summary: Solera 1842 offers great value for money when it comes to lightly sweetened 'Oloroso abocado'. You can feel it is based on old, oak-infused Oloroso that is rounded off by a dash of PX. However it's not cloying or heavy. A crowd pleaser.