Oloroso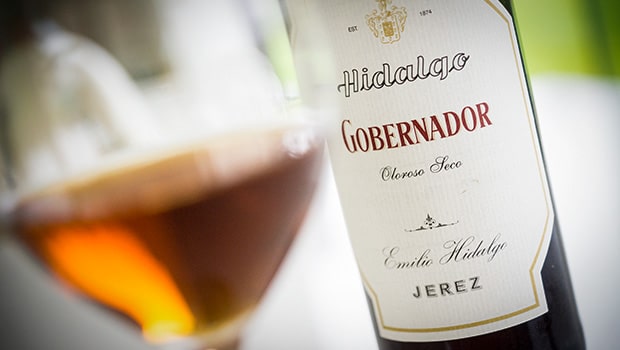 Published on October 29th, 2014 | by Ruben
0
Gobernador Oloroso (Emilio Hidalgo)
The youngest Oloroso from Emilio Hidalgo, yet already a great wine
Gobernador is a dry Oloroso of around 12 years old, produced by Bodegas Emilio Hidalgo. The wine starts its life with a 2-3 year period of biological ageing under a layer of flor, and then spends another ten years or so ageing oxidatively, slowly turning into an Oloroso.
Part of the wine that is taken from this solera feeds the solera of Villapanés (which is bottled around 20 years of age), so both Olorosos are essentially expressions of the same wine. Both are highly respected and Gobernador is really well-priced.
Gobernador Oloroso Seco (20%, Emilio Hidalgo)
Nose: classic dried figs and walnut cake, but also particularly chalky notes and damp cellars (due to the biological ageing). A bit sweaty actually, but in a really nice way. Polished furniture. Surprising malty notes (breakfast cereals). Caramelized sugars (think Crème brûlée) and light salted toffee. Hints of truffle, as well as some coastal notes. Pretty great, with some unique elements.
Mouth: surprisingly sweetish (of course that's just an impression), with plenty of Gianduja: hazelnuts and milk chocolate. Honey glazed meat roast. Some vague salty notes and vibrant acidity, which gives it an energetic impression. Then back to nutty notes. Medium finish.
Availability: around € 15 in Spain, or € 20-25 in most other countries. Sold in 75cl bottles, check The Whisky Exchange for international shipping.
Summary: A great Oloroso with some interestingly uncommon touches. One of the best price / quality Olorosos on the market, from a consistently high quality bodega.