Fino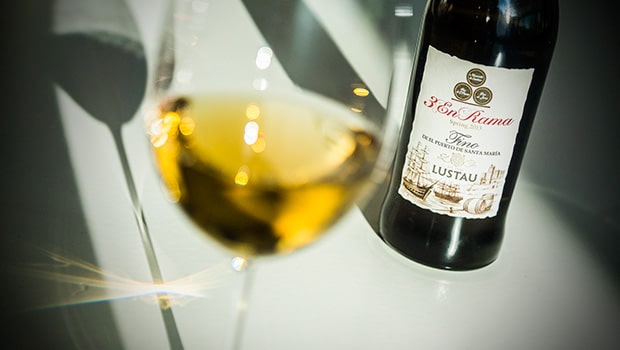 Published on January 15th, 2014 | by Ruben
0
3 En Rama – El Puerto de Santa María (Lustau)
3 En Rama allows you a glimpse of the terroir character of three key cities in the Jerez region
3 En Rama was a series of three Fino wines, bottled by Lustau without excessive filtering (it's the first time they bottle their sherry without filtering). What's even more interesting is that each of these wines have been matured in a different city of the Jerez triangle (Jerez, Sanlúcar and El Puerto de Santa María), thus giving us a rare insight of the terroir influence in sherry.
In general, Finos from El Puerto are the rarest of the three. The city enjoys mild weather all year round, and the location near the Guadalete river allows the flor to grow in ideal environmentally stable conditions. It's too bad I can't compare it to the other cities…
The Fino del Puerto '3 en Rama' is aged in Bodega del Drago located in the Caballero complex, less than a mile from the La Puntilla beach. Two casks from a solera of 347 casks had been selected by their capataz Manuel Lozano to be bottled. Chosen for its delicacy, it is a pale gold colour with bright yellow reflections.
Although the label tells you to finish the wine before the end of the season, I'm convinced you shouldn't try en rama sherry directly after bottling. The wine will become wider and more intense if you allow it to settle a couple of months in the bottle. Of course you shouldn't wait too long either.
3 En Rama – Fino de El Puerto de Santa Maria (15%, Lustau 2013, 50 cl., +/- 500 btl.)
Nose: quite fresh, with aromas of pears and quinces, sea spray and almonds. Very light iodine as well as something reminiscent of petrol – quite typical for the El Puerto style. Toasted bread. Some herbal notes like lovage and rosemary.
Mouth: a slightly light attack. Nutty, fruity, with a nice hint of wood smoke. Lacking some of the lemon tang of a Jerez Fino. Plenty of mineral notes, although it's overall slightly more delicate than I would expect of an en rama bottling. It favours elegancy over intensity, or so it seems. Over time it develops more tangy bitterness, some resinous notes and a briny hint of green olives.
Availability: sold out in all places where I saw it before. Around € 20 (50 cl.) at the time. I expect Lustau to bottle a new version in Spring 2014.
Summary: Lustau 3 En Rama from El Puerto de Santa Maria is a very refreshing Fino, favouring elegance over a bold style. Good complexity and nice terroir notes of petrol and soft smoke. Let's hope it was not a one-off.