Cream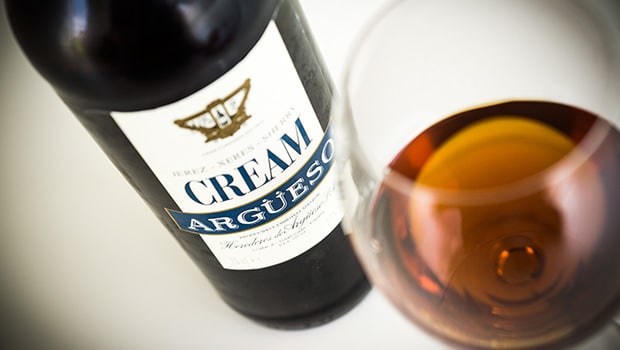 Published on June 23rd, 2014 | by Ruben
0
Argüeso Cream
Cream sherry is usually a blend of Oloroso with some Pedro Ximénez to add sweetness. The risk is always excessive sweetness, which drowns the qualities of the Oloroso component. In this case, 20% is P.X.
Argüeso Cream is around five years old
Bodegas Argüeso, known mostly for their quality Manzanilla and excellent Amontillado, add some Amontillado to their Cream wine.
Argüeso Cream (17%, Bodegas Argüeso)
Nose: pretty good. The typical dried fruits are here (figs, dates, dried apricots) in a rather aromatic way. There's also a lovely hint of polished oak / beeswax that we usually find in very old sherries, especially Amontillado. It's certainly not too sweet, and the aromatic depth is surprising for a Cream.
Mouth: sweet but not too sticky. A fairly natural Cream, with a decent impression of the authentic Oloroso and Amontillado underneath, although it's a little more hidden than I hoped. Dried fruits, caramel and molasses. A hint of pepper. Short finish.
Availability: relatively good, in specialized stores. Around € 12.
Summary: I'm not a big fan of Cream sherry, although this one is really enjoyable, certainly on the nose. It maintains the natural finesse of the Oloroso and Amontillado inside. Good with cheese, or as a summery drink on the rocks.