Vino de Pasto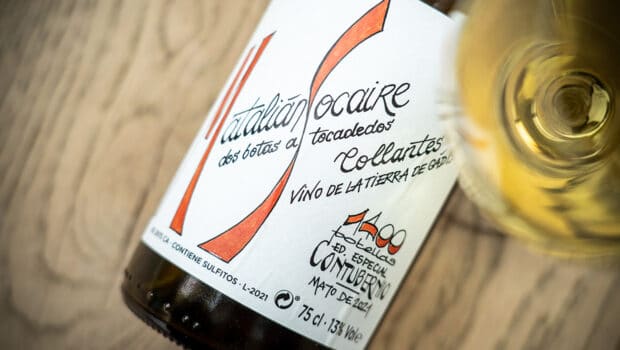 Published on February 17th, 2022 | by Ruben
0
Matalián Socaire (Collantes / Contubernio)
Matalián and Socaire combined into a limited edition for Club Contubernio
Primitivo Collantes has an entry-level wine with the name Matalián, referring to the vineyard in Chiclana that supplies the grapes. Later he became famous for his wine Socaire, one of the first to explore the "whites from albariza" category. These interesting wines combine Palomino Fino grapes with hints of flor, giving the wine extra chalky and coastal notes.
Socaire is barrel aged for 24 months in ex-Fino butts, so this has a subtle hint of flor. Matalián on the other hand doesn't see any wood, so it is fresher and fruitier. This rare bottling Matalián Socaire is a union of both wines, a combination of surplus liquid from Socaire 2018 and Matalián 2019. Collantes combined them into two butts, filled to the brim (a tocadedos) in order to avoid further flor development.
Only 1400 bottles were filled as a special release for Contubernio, the curated 'sherry club' subscription that ships 6 special bottles of traditional wines from Andalusia to wine lovers around the world.
Matalián Socaire (13%, Collantes 2021, Edición Especial Contubernio 9, 1400 btl.)
Nose: in my opinion all the good whites from albariza show this peculiar scent of raw shellfish, and this is no different. Clams in particular, waiting on a bed of seaweed. This crosses over into sandy beaches, hints of limestone after the rain and some fisherman's rope. Behind this I find bruised apples and hints of melon that are probably from the younger Matalián. Chamomile and dried wildflowers. Also mineral notes and a whiff of almond shows up.
Mouth: quite dry but it is still showing this fruity side (apples, melons, lemons) with plenty of coastal notes. The acidity is higher than expected and there is s a nice saline touch and mineral notes that keep it fresh. Chalky notes grow stronger over time. I also find a faint hint of lambic beer, which is an acquired taste but something I really like.
Availability: there are still a few individual bottles left at the Contubernio shop.
Summary: If you know Matalián and Socaire then this won't disappoint. It combines shy fruits with minerals, subtle flor notes and the obligatory coastal notes of raw shellfish. Great sapidity, simply well made.