Manzanilla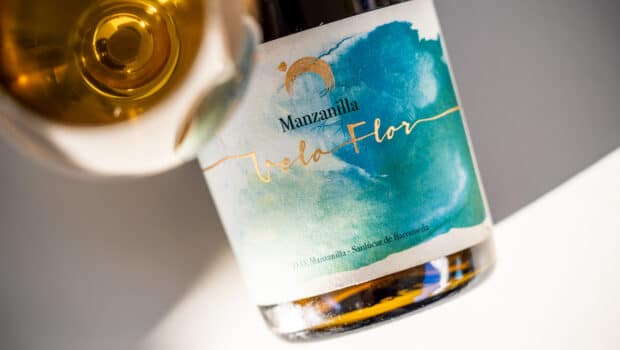 Published on June 29th, 2022 | by Ruben
0
Manzanilla Velo Flor (Bodegas Alonso)
Velo Flor is the benchmark Manzanilla from Bodegas Alonso. It is a fairly recent name, I believe it was first released in 2017. Bodegas Alonso was set up by Fran Asencio and his brother, and after starting this winery in Sanlúcar they were able to secure a series of legendary oxidative wines that once belonged to Pedro Romero and Gaspar Florido.
However they also created a new biologically aged wine, the Manzanilla Velo Flor. After all they occupy the old warehouse of the former almacenista Fernando Méndez, which has perfect climate conditions for Manzanilla. It is here that the Manzanilla Aurora once rested.
The new wine is around 9-10 years old and composed of wines bought from other almacenistas and will also be fed from bought-in mostos, developing its own identity over time. At the same time they are also preparing a separate Manzanilla solera fed with musts from their own vineyards.
There is also an alternative version called Velo Flor Olorosa. It is the same Manzanilla but given a further ageing of 9 months in casks that previously held Oloroso wine. It gets a slight hint of oxidation that way. This version is only available in magnum bottles.
The wine is bottled in a unique shape of bottle for sherry, a Clavelin-like bottle. Not everyone likes these bottles as they can be harder to store, but I must say the label is very classy. I couldn't find a bottling code, which is a shame in my opinion. We have to let producers know we expect some kind of bottling date nowadays.
Manzanilla Velo Flor (15%, Bodegas Alonso +/- 2021)
Nose: really mature, almost earthy even, with a pronounced hint of curry spice that stands out. Warm apple notes, with hints of sandy beach and a sea breeze. Dried esparto grass and chamomile. Roast almonds and hazelnuts with some browned butter in the background. I'd call it a Manzanilla Pasada, with a light mustiness but plenty of vibrance still. The oxidative side is fairly subtle.
Mouth: full and rather punchy. It's dry with a subtle savoury character. A lot of curry spice again, really interesting. A hint of turmeric and pepper, maybe nutmeg too. Behind this I find a subtle hint of cider apple, grapefruit zest and some bready notes. Marcona almonds. Light hints of green olives. The slightly buttery texture combines nicely with the citrusy side. The spices return in a long finish.
Availability: not cheap, around € 30. Hard to find as well, you might try Bodegasdeandalucia.com
Summary: This is one of the most intense Manzanillas, showing a lot of saline, savoury power. Lovely hints of curry spice as well. Velo Flor is a mature wine, still really vibrant. Add to this an attractive, uncommon packaging and you got a wine worth tracking down (if a little pricey perhaps).