Oloroso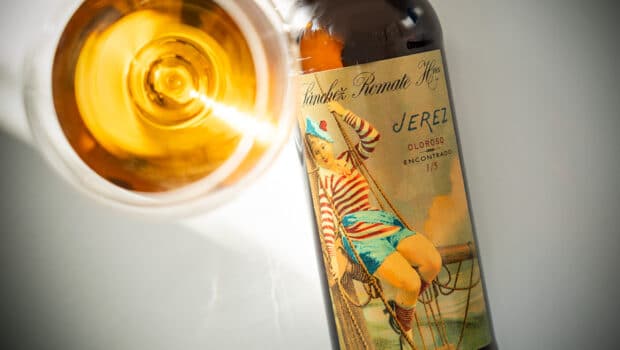 Published on July 21st, 2021 | by Ruben
0
Oloroso Encontrado 1|5 (Sánchez Romate)
A lovely 'forgotten' Oloroso with plenty of concentration and this unique glyceric texture
This Oloroso Encontrado comes from five barrels at Bodegas Sánchez Romate. The barrels were separated from their soleras and were ageing statically, i.e. they had not been refreshed or bottled for many years until they were 'found' (encontrado) by accident a few years ago.
While the history of these barrels remains unknown, the concentration and ABV of the wine indicate it is probably over 30 years of age.
It is part of a small series that includes the Fino Perdido, Amontillado Olvidado and Oloroso Encontrado. All of them are bottled in half bottles with beautiful retro labels from the historic archives of the bodega. All of them were exclusive to The Wine Society in the UK, at least at some point, now they occasionally appear in other stores.
Oloroso Encontrado 1|5 (20%, Sánchez Romate Hnos., 37,5cl, L20)
Nose: very expressive aromatic but also quite elegant. Lovely hints of varnished exotic wood and beeswax. Whiffs of oil paintings and terpentine – I really like that, it gives the wine an ethereal, intoxicating edge. Also toasted hazelnuts and pecan nuts, roasted coffee beans, orange peels, raisins and a touch of burnt brown sugar. It's one of these Olorosos that trick you into thinking it is sweet, although there's a sharper, saline edge too. Light eucalyptus. Really complex and wide, such a promising start!
Mouth: intense, with dried fruits and a peppery note as well as a big salty side. Figs, caramel and dark chocolate, alongside exotic spice and an array of nutty notes. High acidity which nicely balances the glyceric side, which again rounds it off and brings along the slightest hint of sweetness. It's totally dry nonetheless. Very long finish, still quite round, with just a hint of old oak.
Availability: between € 20 and € 35 (for a 37,5 cl bottle) depending on the market. Originally exclusive to The Wine Society in the UK but now also availalable in Denmark and Spain, among others. Check Coalla Gourmet or Encopa for instance.
Summary: I'm glad I tried this Oloroso Encontrado - it's not easy to find but really worth the hunt. It's a superb old Oloroso, a textbook wine that indeed didn't need any intervention, with this special hint of varnish and glycerol that I love. A bargain too, so I had to grab a few extra bottles. Warmly recommended.