Fino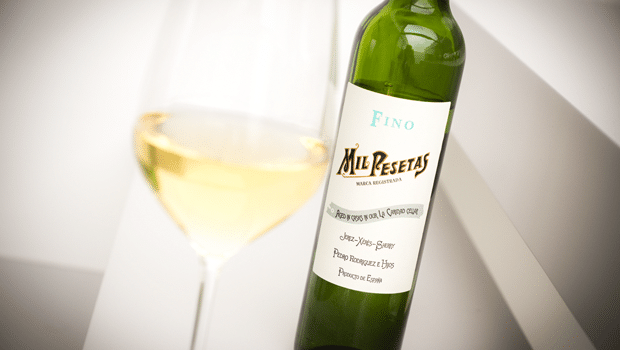 Published on January 18th, 2016 | by Ruben
0
Mil Pesetas (Pedro Rodriguez)
I bought this bottle out of curiosity, I had never heard of the brand and even the bodega didn't ring a bell.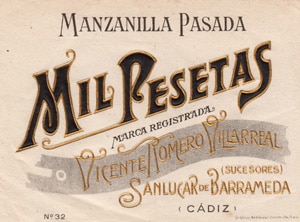 Mil Pesetas goes back a long way though. The brand was introduced for a Manzanilla Pasada produced by Vicente Romero Villarreal, the brother of Pedro Romero Villarreal (of the Bodegas Pedro Romero). Later it was taken over by Pedro Rodríguez e Hijos, a company founded in 1863 by Pedro Rodríguez and Manuel Barbadillo Díez.
This has now become Bodegas Barbadillo, who own different bodega buildings, one of which is called Bodega de las Mil Pesetas – it currently holds the Amontillado Príncipe and Palo Cortado Obispo Gascón among others. However the label says this Fino was matured in the La Caridad cellar, one of the oldest bodegas owned by Barbadillo (be sure to ask for it if you visit the winery, it's a beautiful building with a nice courtyard). Now named Fino instead of Manzanilla Pasada – remember bodegas in Sanlúcar are legally allowed to call their heavier wines Fino instead of Manzanilla, typically called Fino de Sanlúcar.
The brand Pedro Rodríguez e Hijos seems to be mostly used for supermarket wines (e.g. 'Muyfina' for Aldi) and white label wines, which is why Barbadillo is trying to keep it separate from its own brands. Mil Pesetas is now a range of different wines – I've seen a Fino, but also Manzanilla Pasada, Amontillado, Oloroso, Cream and PX (from the Pastora cellar).
(Update: in 2021 the regulations of the D.O. were changed: after a grace period of ten years, all biologically aged wines produced in Sanlúcar, like Mil Pesetas, will have to be called Manzanilla)
Fino Mil Pesetas (15%, Pedro Rodriquez e Hijos, L15, 50 cl.)
A very pale Fino. Nose: quite rounded at first, with plenty of apples, grapefruit and hints of membrillo. Develops some hay and pungent yeast as well, eventually even a farmy note and a damp bodega aroma. Stays in the middle between a young mosto and a middle-aged Fino.
Mouth: quite fresh and fruity, lots of apples and lime, with very few signs of age. Mostly sweet and sour citrus aromas, less bitterness of flor. Almonds and subtle hints of toasted bread. Not very complex, but highly drinkable, with a medium long, fresh aftertaste.
Availability: hard to find. I paid around € 6 for a 50 cl. bottle.
Summary: A pleasant Fino, with a nice balance between fruity (citrusy) aromas and young flor. Works well with food as a replacement for a classic wine.