Pedro Ximénez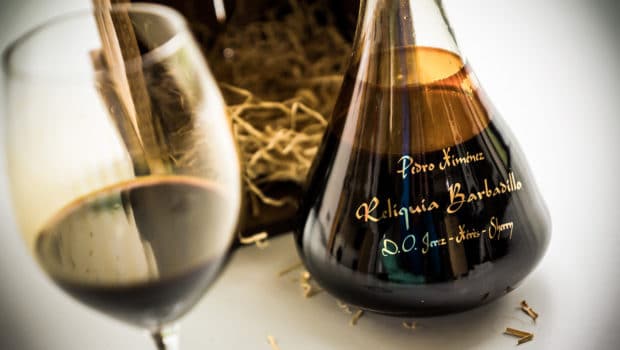 Published on July 18th, 2015 | by Ruben
1
Reliquia Pedro Ximénez (Barbadillo)
This little blog is exactly 2 years old today and I wanted to dig up something special from my collection to celebrate…
The Reliquias is a series which includes four of the oldest, rarest sherries produced by Bodegas Barbadillo. Originally each of these casks were reserved for the Barbadillo family, but since a few years they are available on the market in limited quantities.
Although the Reliquias don't have VORS age statements, it is clear that each of them is among the oldest wines in the sherry region, with ages estimated up to 150 years.
The Pedro Ximénez Reliquia comes from a couple of casks that were sold by Don Rafael Terán Carrera to Don Antonio Barbadillo Ambrossy in the 1880s. Terán Carrera was a Cantabrian whose family was involved in Bodegas Rodriguez Lacave and Bodega del Trillo. One of his nieces was the wife of Antionio Barbadillo Ambrossy. In 1921, the wine from these barrels formed the base of the ancient PX solera in the 'Bodega del Potro' in the Calle Sevilla in Sanlúcar, which Barbadillo acquired just two days before his death.
Besides this Pedro Ximénez Reliquia, there is a Reliquia Amontillado, Oloroso and last but not least a Palo Cortado which achieved a 100 points score in Robert Parker's Wine Advocate. Only 40 bottles are made available every year. A lot of these now find their way to the UK, Russia and China.
Pedro Ximénez Reliquia (17,5%, Barbadillo)
Nose: a dark and complex nose, with a remarkable pungency of medicinal notes (something in between menthol and iodine). Filled with dried figs and plum compote. Nice hints of polished exotic woods, with a faint smoky edge. Balsamic syrup. Dates and chocolate nibs.
Mouth: dense with a well integrated sweetness. Lots of fruits at first (raisins, baked apple, chocolate coated figs) including a remarkable refreshing acidity. Quickly gets drier. Liquorice. Vanilla. Hints of herbal cough candy as well. Very long aftertaste on exquisite dark chocolate and roasted coffee beans. Hints of Turkish coffee.
Availability: very limited and very expensive. Its price has taken quite a hike in the last few years. Around € 200 at the time, but the Parker effect now makes it impossible to find under +/- € 1000.
Summary: The Pedro Ximénez Reliquia is quite a majestic wine, very full-flavoured but also very balanced which makes it easy to appreciate and easy to drink. The complex mixture of sweet fruits, subtle acidity and spicy notes makes it special.