Pedro Ximénez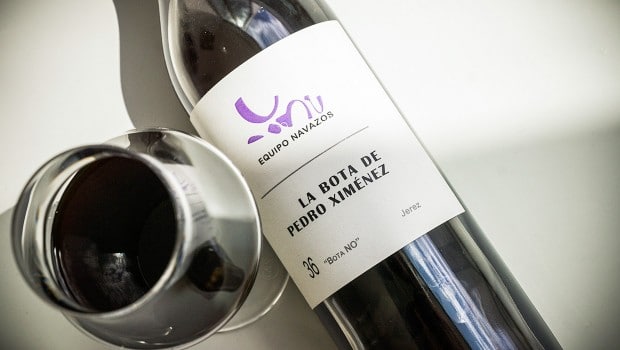 Published on June 1st, 2015 | by Ruben
1
La Bota de Pedro Ximénez 36 (Equipo Navazos)
A single cask taken from the Antique PX solera at Fernando de Castilla
La Bota n°36 is a Pedro Ximénez from Bodegas Rey Fernando de Castilla. It was bottled in June 2012 from the oldest PX  solera in the house, which holds the Antique Pedro Ximénez. It consists of around 30 butts, all of which revolve around the legal minimum strength of 15%.
As a Bota NO, this particular cask was already excluded from the regular sacas of this wine. The wine is at least 30 years old.
La Bota de Pedro Ximénez n°36 (15%, Equipo Navazos, 2400 btl., 50 cl.)
Nose: quite wide. It starts with the usual dates, dried figs and prunes but it goes well beyond that. Orange peel adds freshness. Also notes of pipe tobacco and liquorice. Subtle herbal honeys. Even a hint of salinity and a faint diesel note. Coffee as well.
Mouth: thick and very sweet of course, very velvety and smooth with very little alcohol to be noticed. Honey, fig syrup, dates. Hints of cinnamon rolls. Just a hint of mint (make that After Eight) and citrus. Great texture and oiliness, but flavour-wise not as complex as the nose.
Availability: limited availability. Around € 50.
Summary: A very fine bottling again from Equipo Navazos and Fernando de Castilla. A very smooth, velvety example of Pedro Ximénez. Contrary to some other PX you can keep drinking it without getting tired of it.