Fino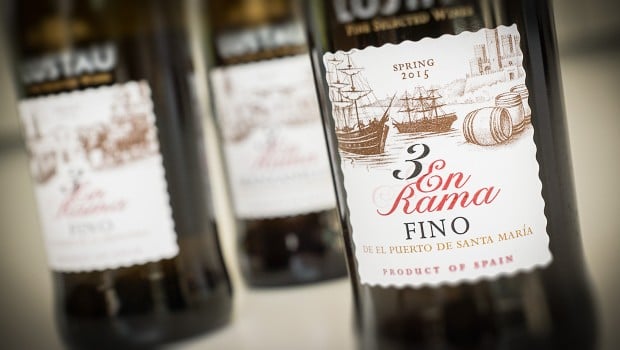 Published on June 19th, 2015 | by Ruben
0
3 En Rama 2015 – Fino El Puerto de Santa María (Lustau)
3 En Rama allows you a glimpse of the terroir character of three key cities in the Jerez region
The mild weather all year round in El Puerto de Santa María has a crucial influence on the Fino that is matured there. The flor grows in ideal environmental conditions, fed by the fresh sea breeze.
Although it's not specified, I believe this Fino would come from the bodega El Drago, where the Grupo Caballero (the owners of Lustau) also matures Lustau's Puerto Fino and the Fino Pavón for instance. The name derives from the 'Drago Milenario', a typical dragon tree which is supposed to grow a thousand years old, which grows in one of the open spaces inside the bodega. From a solera of 347 casks, only two have been selected by the committee to be bottled, chosen for their delicacy.
3 En Rama – Fino de El Puerto de Santa María (15%, Lustau 2015, 50 cl., 1000 btl.)
Nose: this is the most mineral of the three wines. It also has the typical diesel-like aroma that you sometimes get from a Fino del Puerto. Some coastal aromas, as well as a mild sourness of cider apples. Sweeter quinces. Hints of bread dough and bread crust. Underneath is a vegetal layer, something meaty, like Marmite. Intense and highly individual.
Mouth: a rather light attack compared to the others. Some apricot sweetness, coupled to a mild herbal bitterness. The same kind of garage-like association is present, hard to explain but very interesting. Also very light cheesy notes. Then more classic nutty notes come out, mainly almonds and cashews, making this the nuttiest of the three. Long, peppery finish.
Availability: limited to 1000 bottles, available from select Lustau resellers. Around € 20 (50 cl.).
Summary: A 'Puerto Fino' is known for its peculiar diesel-like aroma and I'm glad Lustau selected a great example of this style. It combines mild aromas, with some more prominent spicy and nutty flavours.