Oloroso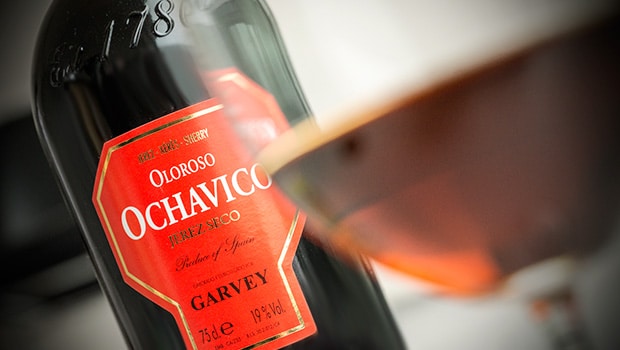 Published on February 26th, 2014 | by Ruben
0
Oloroso Ochavico (Garvey)
Ochavico is the standard Oloroso in the Garvey product range
The situation of Garvey may not look so good (takeovers, financial scandals, mergers, strikes…) but the bodega is still active and its products are still out there in stores. The bodega was part of the Nueva Rumasa group, which also includes other brands like Zoilo Ruiz Mateos. With the Ruiz-Mateos family being taken to court for fraud and the next owner in custody for yet another case, the company is currently looking to secure a better future.
The dry Oloroso Ochavico is part of the core range, which also holds their flagship wine, the Fino San Patricio. Ochavico is said to be around 6 to 8 years of age. My bottle dates back to 2011. The current situation of the soleras is a little unclear, some of the wine stocks have been sold in order to provide money to keep the bodega running, I surely hope the rest is taken care of properly.
The brand Ochavico was originally owned by the almacenista Lamadrid from El Puerto de Santa María, but as far as I know they used it for Amontillado and Spanish 'cognac'.
Ochavico Oloroso seco (19%, Garvey)
Nose: slightly pungent top notes (lemon skin, liquorice) before darker notes of toasted almonds and walnut husks come out. Hints of Maggi and plenty of spices (pepper). Damp wood. Raisins and dried plums in the background.
Mouth: shy attack, completely dry with plenty of spices again (pepper), but there's a roundness of red fruits to it as well. Roasted nuts and hints of wood. Not entirely full-bodied and not very old, which means the alcohol shines through at times. Fairly round finish, no excessive bitterness or dryness.
Availability: not so good, but still available from a few retailers. I've paid around € 10.
Summary: Ochavico is a fairly classic Oloroso, sometimes pungent, sometimes very round. Decent quality and good value for money.