Pedro Ximénez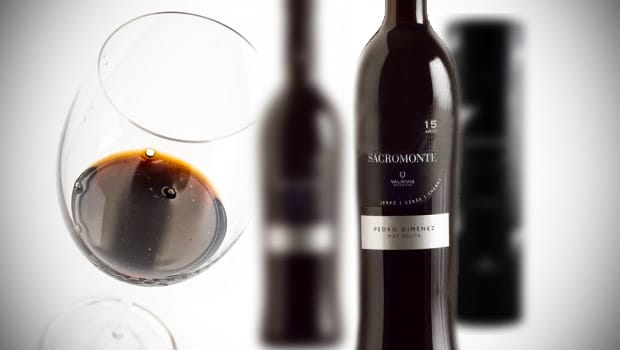 Published on December 16th, 2013 | by Ruben
0
Sacromonte Pedro Ximénez (Valdivia)
Sacromonte is the premium range from Valdivia, with sherries of 15 years and older
Bodegas Valdivia has had a slightly uncomfortable history. After being founded in the 1960s, it was part of the infamous Rumasa empire. When this fraudulent group was taken down, Valdivia was sold to Williams & Humbert in 2002, then to Intermonte and finally to Nueva Rumasa, kind of a revival of the healthy part of Rumasa, which then also held Bodegas Garvey. By 2011 this group had been declared bankrupt and the owners, the Ruíz-Mateos family, are now facing fraud investigations (again). Obviously we're only interested in the products, not so much the politics behind them, but it's important to know that all Valdivia products are currently 'on hold'.
The grapes for this Sacromonte Pedro Ximénez were picked at optimum ripeness and left to dry out in the sun (up to 12 days) to concentrate their natural sugars. The wine contains 380 grams per litre of residual sugars. It's at least 15 years old and it won a Silver Decanter World Wine award in 2011.
Sacromonte Pedro Ximénez 15 years (15%, Bodegas Valdivia)
Nose: sweet, with dates and figs, plum jam and lots of raisins. Also toffee and a little chocolate. Honey coated nuts. In the background there is a slight alcohol / balsamic tingle as well as a slight earthy, savoury note.
Mouth: smoother than the nose, very velvety and thick, almost buttery. Lots of brown sugar, dried fruits and caramel. Hints of tobacco in the finish. Lacking a little bit of acidity, but it's never too cloying due to a faint bitter edge.
Availability: although the bodega is currently inactive, some bottles are still available from retailers. Around € 25 for a 50cl bottle.
Summary: A well-made but very dense P.X. with an above average velvety palate. No surprises here, no deceptions either.